Key Water Management Plans, Projects and Events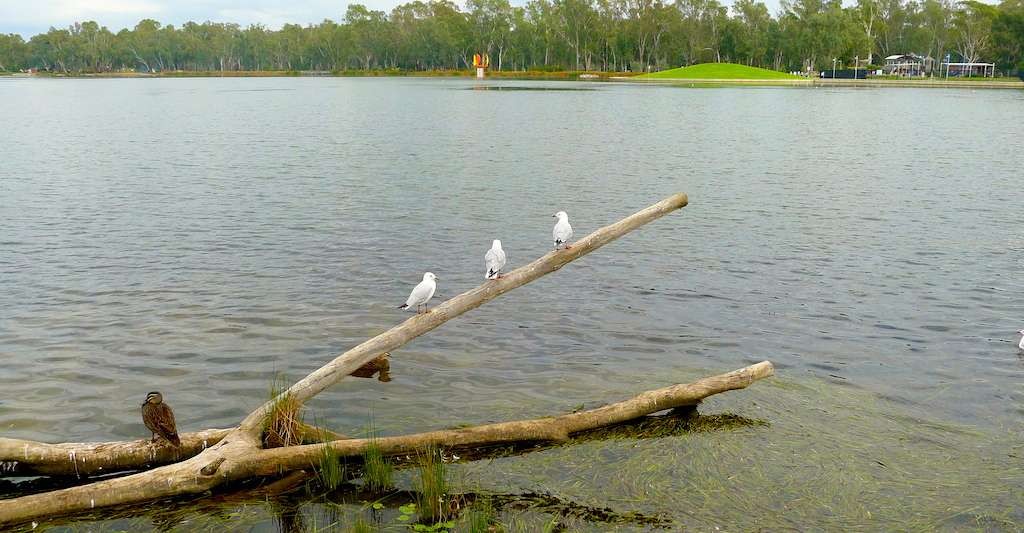 To reduce Council's water consumption and maximise water reuse.
Sustainable Water Use Plan (2007) identifies where and how much potable water Council uses and contains actions for Council to reduce potable water consumption. This plan is currently scheduled for review.
The Aquamoves Aquatic Centre has been implementing several actions to reduce the quantity of water used at the facility.
Council's water management responsibilities that lead to improvements in water quality across the municipality.
Greater Shepparton Stormwater Management Plan (Review 2009)
This Plan identifies actions to improve the environmental management of urban stormwater and protect the environmental values and beneficial uses of receiving environments. It identifies urban activities that may adversely affect water quality and sets in place strategies to protect water quality and beneficial uses from stormwater run-off.
Building and construction sites - Building and construction sites can be major contributors of litter and sediment into our waterways because these sites contain unprotected soil that is readily exposed to the elements (wind and rain) at locations in close proximity to stormwater drains. Council has a developed a range of industry stormwater brochures to improve the quality of stormwater runoff from building and construction sites.
Water Sensitive Urban Design (WSUD) – is a method of designing new residential and industrial developments to treat stormwater before it leaves the local area. Under WSUD, water is filtered through swale drains and 'raingardens' to catch litter and sediments. The water percolates through underground pipes then into a retardation basin for further settling, before being released as cleaner water back into the river system. Kialla Lakes is an example of WSUD which does require some care on behalf of the residents to not disturb or compact their nature strips as this is where the pipes are laid.
Other stormwater management projects
The Lowanna Waters wetland at Kialla Lakes treats stormwater from the residential area Water Sensitive Urban Design features have also been incorporated into the drainage of residential subdivisions.
Lake Bartlett - Stage 1 redevelopment works aimed to improve both the aesthetic appeal of the area and the quality of the water in the lake, as well as making the lake a more sustainable system. Stage 2 and 3 will commence when funds become available.
Gordon Drive Wetland Development - This wetland treats stormwater from the nearby residential and industrial developments in Kialla prior to discharge into the Broken River.
Gemmill's Swamp Bioremediation Wetland – This constructed wetland has been designed to treat Mooroopna's urban stormwater runoff to improve the quality of water entering Gemmill's Swamp (an important local wildlife reserve managed by Parks Victoria) and the Goulburn River.
Domestic Waste Water Management Plan (2008)
This plan identifies actions to protect ground and surface waters from domestic waste water.

Education and awareness - Council is currently investigating opportunities to utilise QR (Quick Reference) codes at Victoria Park Lake and Gemmill's Swamp bioremediation wetland to show-case how Council are leading the region in urban stormwater treatment while gaining significant environmental outcomes.
Water Management Partnership Projects
RiverConnect- is an initiative of the Shepparton-Mooroopna community to acknowledge the Goulburn and Broken Rivers as the heart and soul of the community. Project partners include Parks Victoria, Department of Environment, Land, Water and Planning, Department of Education and Training Central Sub Region, Yorta Yorta Nation Aboriginal Corporation, Rumbalara Aboriginal Cooperative, Word and Mouth and Goulburn Murray Landcare Network.
Water Week - Goulburn Valley Water, in partnership with Council and other local water and natural resource management authorities, organises free events, competitions, and activities for school students and community members. The week's celebrations help to raise awareness of the need to value and conserve water as a precious resource that brings life and prosperity to our region.
Northern Region Water Monitoring Partnership Program - Council is partner of this program that monitors water quality and quantity in the region. Council is responsible for the maintenance of a number of monitoring sites.
Stormwater Education Officer – Greater Shepparton City Council, Moira and Campaspe Shires employ this officer through the Goulburn Murray Landcare Network to implement Council's Stormwater Management Plan and to manage stormwater issues in the municipality. The Officer conducts community education and awareness events about water quality issues and monitors water quality at urban lakes and wetlands. Tests include pH, turbidity, temperature, dissolved oxygen, salinity and phosphorus, whilst E.coli is also tested for in some waterways. Cussen Park and Lake Bartlett in Tatura, and Lake Kialla, Lowanna Waters, Lake Amaroo and Victoria Park Lake in Shepparton are some of the testing sites.
Municipal Catchment Coordinator – Several Goulburn Broken Catchment Councils, in conjunction with the Goulburn Broken Catchment Management Authority, employ a full-time Municipal Catchment Coordinator to ensure their policies and activities are consistent with the catchment strategy. This position creates a strong, effective and resilient partnership between Council and the GB CMA to develop common ownership and commitment to Natural Resource Management and Regional Development programs in the Shepparton Irrigation Region.
Gross Pollutant Trap (GPT) installation - Council and the GB CMA have worked in partnership to install a number of GPTs in key locations to minimise the amount of litter and sediment entering our waterways.