Maude Street Mall - Refined Concept Design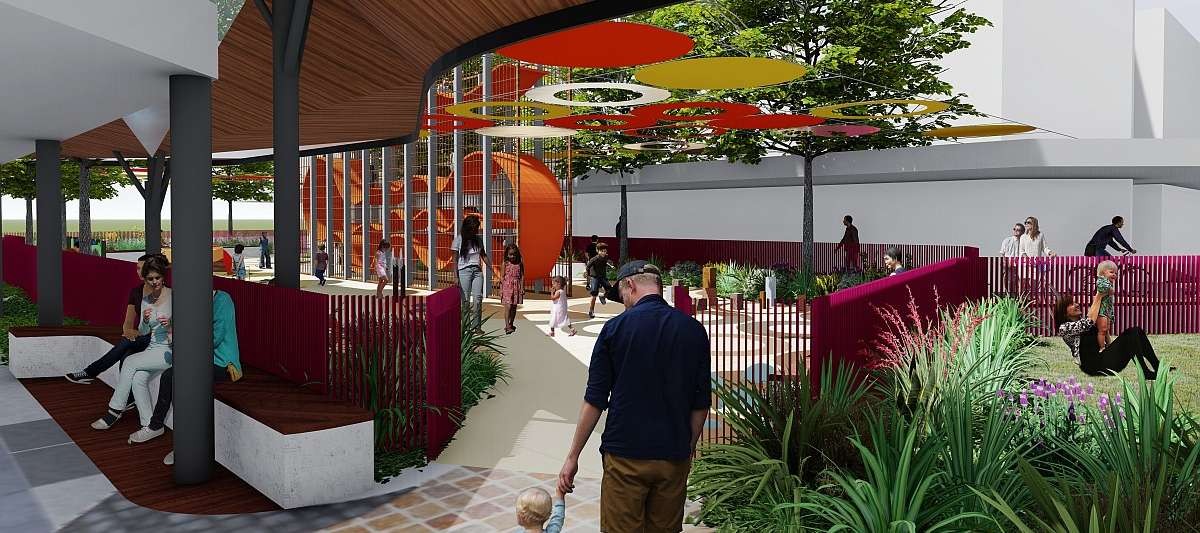 The Maude Street Mall Precinct and CBD have the potential to evolve to become the central focus of daily life within Greater Shepparton through the delivery of an integrated approach to economic development, structure planning and proactive place activation.
Public spaces are critical to the heart of any community where they strengthen the connection between people and the places they share.
Creating public spaces adds value to urban design; it facilitates creative patterns of use, paying particular attention to the physical, cultural, and social identities that define a particular place or space. With community-based participation at its centre, the creation of an effective public space process capitalises on a community's assets, inspiration, and potential, and it results in the creation of quality public spaces that contribute to the health, happiness and well-being, and in this case provides economic generation potential.
Learn more: Major Project - Maude Street Mall Redevelopment
Council awarded the tender to landscape architects, GroupGSA in August 2019, to refine the Option 4 Concept Design developed by Spiire. Group GSA have a demonstrated track record in delivering similar projects for regional and metropolitan areas.
The designs can be viewed by clicking on the items below, or in person at the following locations:
"Think CBD" Office - Tower Arcade, Maude Street Mall, Shepparton
Click-and-drag on the map below to zoom in and see details.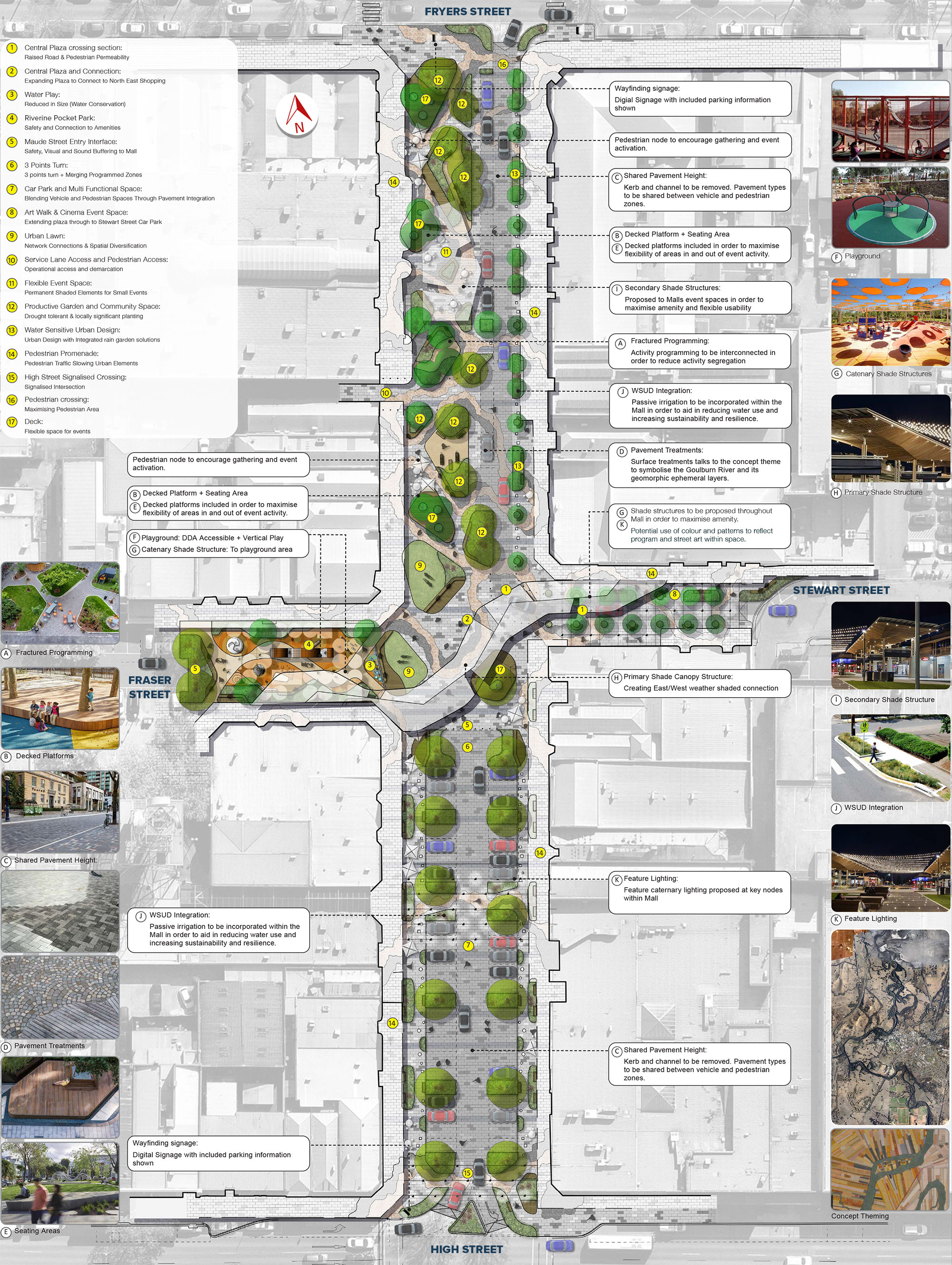 Mouse-over or tap the hot-spots below for additional details.
Note: The below maps have been rotated counter-clockwise 90 degrees (north pointing left)
Maude Street South: Shared Space and Trees
Construction activities will cause unavoidable damage to existing tree roots, reducing the life of the trees. Retaining these trees will significantly prolong the construction period.
Replacement of trees will enable the optimum number/configuration of parking spaces, while establishing consistency in tree types and enhancing the attractiveness of the Mall.
New tree selection will consider less allergens, reducing maintenance and clean up.
Fraser Street: Playspace
Iconic play structure / Visitation draw card
DDA Accessible / Inclusive Play
Vertical play elements: Reduces fall zone + maximises usability of space.
Safety: Vehicle buffering + Fenced play space
Connectivity: Close connection to existing toilet facilities for playspace users
Water play: Safer and easier to incorporate into space
Central Plaza: Landmark
Landmark plaza
Ability to hold events
Key pedestrian connection point East / West
All weather shelter connection
Flexible space usability
Stewart Street
In regard to a shared zone, VicRoads deem that a street that is considered appropriate for a shared zone if it contains the following characteristics:
Low volume street where pedestrians outnumber motor vehicles and where the pedestrian needs are best met by walking on the road;
Where the street has been constructed or reconstruct to a sufficient degree to ensure significant visual interruption and where speed is physically restrained; and
Where there is no cross motor traffic.
Shared zone 10km/h speed limit
Maude Street North: Flexible Event Space
Flexible event space for small scale events
Shaded shelter for future commercial and retail breakout
Dispersal of open space and activities
Have your say
Council wants your feedback on the refined concept design.
The Refined Concept Design features a greater level of detail and is based on the Council-endorsed Concept 4. The Refined Concept Design has the same features, such as the one-way road from Fryers to Stewart Street and a south end parking accessed from High Street.
Council would like to know what you think about the design. The location of major features is now confirmed however you might want to comment on some of the aesthetics of the design. The best way to see this in detail is to visit the the council offices to see large scale plans. If you would like to discuss any part of the plan please contact the Projects Office on 03 5832 9700.
This consultation closes at 5pm on 30 April 2020.
* Fields marked with an asterisk are required.