At the very heart of Victoria's agricultural and transport industries and being one of Victoria's most liveable regional cities, with strategic investment, Greater Shepparton has the potential to alleviate the population growth pressures currently being experienced by metropolitan Melbourne and further contribute to the growth of the Victorian economy through increased business opportunities and visitation.
Greater Shepparton is the fifth-largest city in regional Victoria in terms of population, and is forecast to grow to 83,234 by 2036. Of importance is the fact that Greater Shepparton services a regional catchment of approximately 250,000 people.
Greater Shepparton is therefore expected to play a significant role in the future growth and development of northern Victoria in terms of providing future employment, health, education, aged care, migrant, and retail services as the regional population expands and demand for a range of services accelerates through demographic change factors.
To fully meet the needs of an expanding and diverse population, there are four major transformational projects that will have significant influence on our future prosperity. And these projects will only be possible via partnering with the Victorian Government.
Join us as we work with both sides of government in securing state government support and investment for these vital projects
1. Goulburn Valley Health (GV Health) Redevelopment Stage Two: $272M - $374M.
GV Health provides regional health service for 250,000 residents including southern NSW. There is an inability to meet growing regional demands which is placing pressure on service delivery.
While funding for stage one was provided, the current hospital site contains several different buildings constructed across a number of decades as limited funding did become available. The current ad hoc site is spread across a vast space with many buildings that are no longer fit for purpose.
It is central to be able to provide integrated cancer services across northern Victoria. Service planning is being undertaken by the Department of Health and Human Services to assess what the Integrated Cancer Centre services will be required to provide.
2. Goulburn Valley Shepparton Bypass Stage One: $260M.
The Goulburn Valley Highway is an essential transport route, connecting the Goulburn Valley region with Melbourne. It also forms a vital link in the national highway system between Melbourne and Brisbane.
Parts of the Goulburn Valley Highway around Greater Shepparton can no longer effectively cater for the large and increasing traffic volumes that use the highway daily. The solution to address the highway's limitations is to build a bypass for Shepparton that will help bring balance through the region between community and industry needs. This has been a long-term vision and project, and with the $10.2 million state government commitment to undertake preparatory works and land acquisition, $260 million required to finalise the works required.
3. Shepparton Sports & Events Centre Redevelopment Stage One: $37M.
Greater Shepparton as the sporting mecca of regional Australia is committed to complete the final stage of the Shepparton Sports City precinct with the redevelopment of the existing sports stadium. Doing so will see the creation of a multipurpose sports and entertainment centre to service northern Victoria and beyond.
Hosting of regional sporting events and competition is vital to the Greater Shepparton economy, however the limitations of the Sports Stadium, opened in 1972 and extended in 1994, is restricting the ability to attract new and retain existing sporting events. Basketball Victoria has indicated that the hosting of future events in Shepparton is at risk due to the limitations of the existing stadium.
The 2017 Greater Shepparton Major Events calendar generated around $44.3 million in economic stimulation with around $21 million attributed to sports tourism. A redeveloped Shepparton Sports and Events Centre can significantly increase the visitor spend for major events and sport in the region.
Council's overarching vision for sport and recreation is that all Greater Shepparton residents participate in sport, recreation and physical activity as part of their daily life.
4. Shepparton CBD Transformation - Maude Street Mall $19M and Railway Precinct $14M.
Maude Street Mall
An outstanding opportunity exists to transform Shepparton's central business district (CBD) into a contemporary, lively and viable retail and lifestyle precinct.
With the proposed design, the Maude Street Mall and CBD have the potential to evolve to become the central focus of daily life within Greater Shepparton, with the unique shared streetscape design featuring:
One way single lane entry into Maude Street from Fryers Street
Parallel parking along one side of the one way street
A central plaza
Flexible events space
Water sensitive urban design
Outdoor dinning
Pedestrian promenade
Arts walk
Urban lawn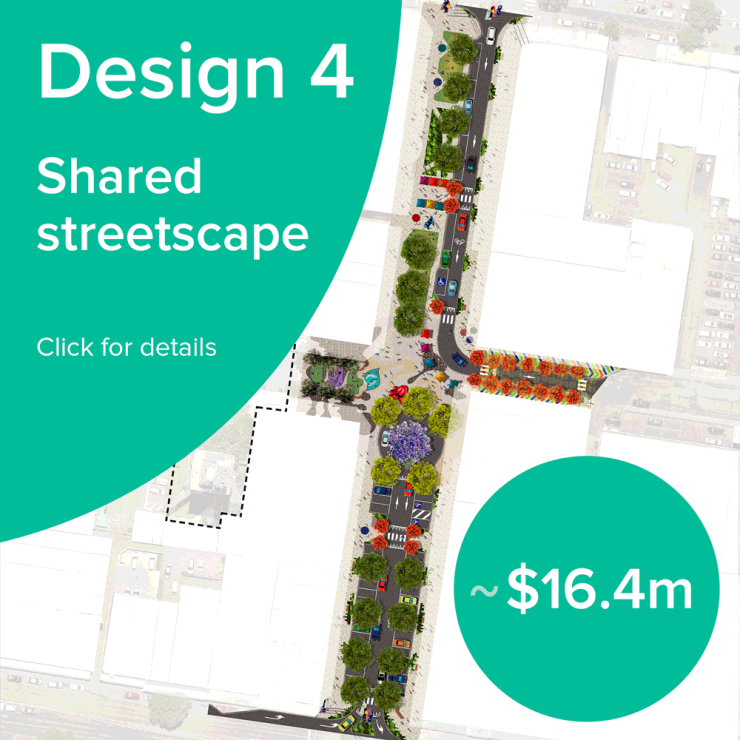 Railway Pedestrian Overpass
The position and layout of the Shepparton Railway Station sees it essentially turning its back on the Shepparton CBD. This creates a virtual barrier between the station and the CBD. The Shepparton Railway Station Precinct Development centres on constructing a pedestrian bridge to provide direct access between the Shepparton Railway Station and Vaughan Street in the CBD.
Connections Shepparton Railway Station
A shared path to provide an off-road connection for pedestrians and cyclists between the Shepparton Railway Station and the new Shepparton Art Museum (SAM) at Victoria Park Lake is planned to connect the CBD to these emerging precincts.
Other key projects
Greater Shepparton City Council also supports local businesses and organisations leading the advocacy of the following key projects:
Munarra Centre for Excellence (MCRE) - $33M.
Greater Shepparton College.
Rail – Passenger Rail $356M, freight rail $10M and fast rail.
La Trobe University Campus Extension - $21.4M.
---
---
---
Get Involved
Please show your support by letting us know which projects are important to you, and why.