Industrial Investigation Areas Structure Plan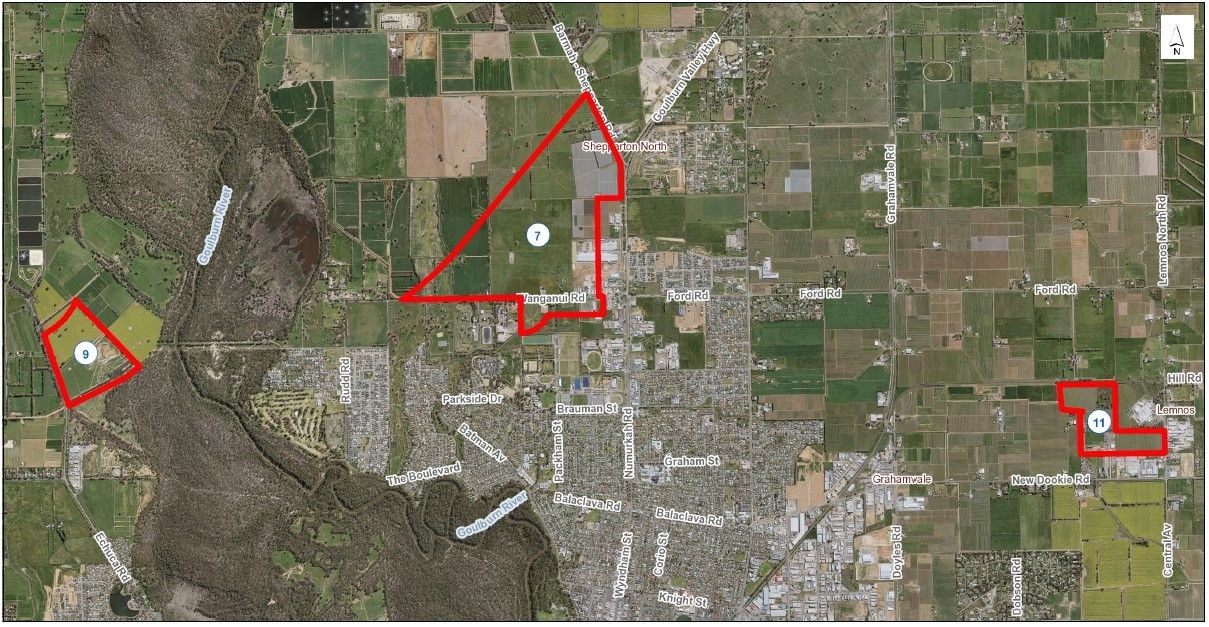 Greater Shepparton City Council (Council) is commencing design and investigation work for Industrial Investigation Areas 7, 9 and 11.
Background
The Industrial Land Review, City of Greater Shepparton, 2011 (Industrial Land Review) was adopted by Council in 2011 and implemented through Amendment C162 to the Greater Shepparton Planning Scheme (Planning Scheme) in 2016. Amongst other things, the Industrial Land Review identified options to increase industrial land supply by identifying several Industrial Investigation Areas throughout Greater Shepparton.
Industrial Investigation Areas identify land that has potential to be rezoned for industrial purposes owing to its proximity to existing or proposed industrial land or transport and infrastructure assets. However, these areas have a number of planning-related considerations (e.g. access, drainage, flooding, proximity to reticulated services, etc.), which must be resolved through a thorough investigation before any land can be rezoned for industrial purposes.
In September 2019, Council noted the City of Greater Shepparton Industrial Supply and Demand Assessment September 2019 (the Industrial Land Supply and Demand Assessment). The Industrial Land Supply and Demand Assessment found that the existing supply of zoned broadhectare industrial land is insufficient to meet the rate of consumption of industrial land predicted for Greater Shepparton in the medium and long term.
Next Steps
Council will shortly commence a structure planning process to determine the development potential of these three Industrial Investigation Areas (namely Industrial Investigation Areas 7, 9 and 11; please refer to the figure above).