Fruit Picking Season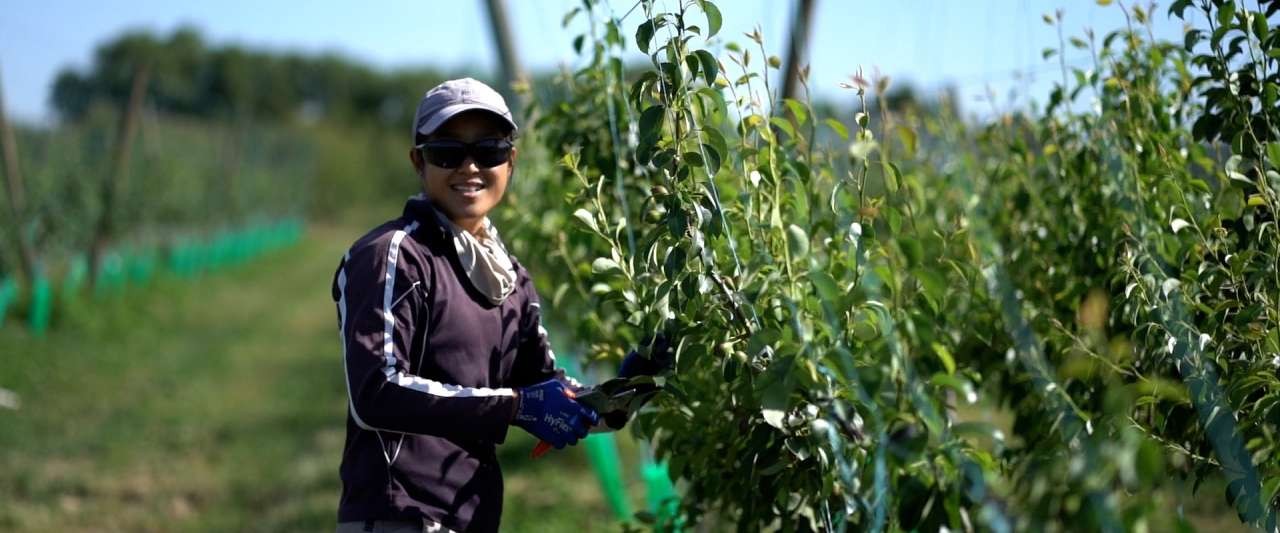 Our fruit growers across the Goulburn Valley need your help to get the fruit off the trees.
Greater Shepparton and Victorian farmers need your support to get produce off to market. Due to COVID-19 travel restrictions, farmers are expecting a shortfall of thousands of seasonal workers. Workers who support the industry will support formers and ensure fresh produce is supplied to Australia and the rest of the world.
Fruit picking season has already started in our region beginning with cherries, then stone fruits such as apricots, nectarines and plums and will go right through to April/May 2021, finishing with apples and pears. Pickers are needed to ensure all this quality fruit does not go to waste.
Greater Shepparton is one of the largest fruit producing regions in Australia producing 86% of Australia's pears, 70% of Australia's peaches, 49% of Australia's plums, 80% of Australia's Kiwi Fruit and 38% of Australia's apples to name a few.
Learn new skills, make great friends, work hard, earn good money and experience iconic Victorian locations. You can even receive up to $6,000 if you are relocating from outside of the region.
Picking is a great way to get your foot in the door, with opportunities for ongoing work, training and further career advancement.
Frequently asked questions
What types of jobs are available?
Roles on-farm for harvest season can include:
Picking of fruit
Thinning of trees
Machinery operation such as tractor driving
Packing of fruit in the pack house
What will I be doing? What is a typical day?
Working hours may vary and can start as early as 6.30 am when it's warmer and may finish by 2 pm to 5 pm depending on the farm and weather.
You will be up and down ladders, bending and picking fruit so it will be physically demanding and you will be working outdoors.
When will there be work?
The harvest periods for the Shepparton region are as below:
| Month | Variety | Harvest Time |
| --- | --- | --- |
| Late November | Apricots | Last week Nov to 1st week Dec |
| December | Cherries / Nectarines | 2nd week Dec to 1st week Jan |
| December | Apricots | Christmas time |
| January | Nectarines / Peaches / Plums | Most of Jan into Feb |
| February | All pears | All of Feb into 2nd week Mar |
| February | Apples (Gala and early varieties) | 2nd week Feb to start of Mar |
| March | Apples (Granny Smith) | End of Mar into Apr |
| April | Apples (Pink Lady) | All of Apr up to 2nd week May |
| May | Late Apples | May / June |
Do I need any experience?
No experience needed apart from being physically healthy, fit and reliable, as well as having a willingness to learn and a great attitude! If you ware wanting to start a longer term career in the industry, there are opportunities that require some level of training such as driving tractors, etc. Your employer will let you know what is needed and most growers are willing to train people in new skills.
If you require assistance with transport and accommodation please see the 'Further information and financial support' section below.
Picking is an outdoors role and is dependent on the weather requiring some flexibility.
Where can I stay? How will I get to work if I'm relocating?
Some farms provide accommodation on site and some charge a fee. Greater Shepparton has a wide range of accommodation options. See 'Further information and financial support' regarding relocation and accommodation assistance available.
Most farms are located within a 20-30 minute drive to Greater Shepparton Town Centre, some are as little as five minutes.
The Department of Health and Human Services have been working closely with industry and accommodation providers in the region to ensure COVID Safe accommodation is available to workers.
There is limited public transport available to farms. Some accommodation providers can assist with travel to and from farms. Please check with them individually.
What are farmers doing about COVID-19?
All horticulture businesses are required to have a high-risk COVID Safe plan in place.
The plan details how the business will meet the key requirements of physical distancing and hygiene practices such as making hand sanitiser or hand washing facilities available and displaying information about COVID-19 compliance requirements.
Please visit the Victorian Coronavirus website for more information.
Further information and financial support
For more information about harvest and seasonal work jobs, please visit the Harvest Trail website.
Relocation assistance for harvest work of up to $6,000 is available to eligible Australian's and $2,000 if you are a visa holder with the right to work in Australia.
To be eligible for relocation assistance you will need to work for at least six weeks and at least 120 hours in a harvest, regional or remote area.
For further information on this assistance please visit the Australian Government's Job Search website.
Register your interest
Are you looking for work over the summer? There are thousands of short-term jobs up for grabs, including fruit picking and packing, and general farm work.
Fill in the form below to register your interest. Your details will be forwarded to Fruit Growers Victoria, MADEC Shepparton and Agriculture Victoria for consideration.
Registrations are currently closed. Please check again soon.
Other details
Here are some other details you way wish to know.
Eligibility to work
You can join the seasonal workforce if you:
are an Australian citizen or permanent resident
are an eligible working holiday maker holding a visa with appropriate working rights
are an overseas student with working rights in Australia
hold a Seasonal Worker Program or Pacific Labour Scheme visa
hold a temporary work visa with general work rights, not restricted to an employer or type of work.
Getting paid
Most seasonal horticulture workers are hired under the Australian Government's Horticulture Award. The award outlines minimum pay rates and other entitlements like leave and overtime.
The award also covers workers hired through labour hire providers.
Workers can earn an hourly wage or a piecework rate.
Hourly rates
The minimum hourly rate under the Horticulture Award is:
$19.84 for an adult full-time employee
$24.80 for an adult casual employee
Visit the Fair Work Ombudsman pay calculator for more information.
Piece rates
A piecework rate is where a worker earns money based on the amount they have picked, packed, pruned or made.
Instead of the hours worked, an employer pays the worker for the number of kilograms or bins of produce they pick.
Visit the Fair Work Ombudsman's How to use piecework agreements page for more information.