Project Background
The Shepparton Regional Saleyard (SRSY) is a Council owned facility for the purpose of facilitating a livestock market. Council has outsourced day to day management of the facility to a private contractor; and sale days are managed by the Goulburn Valley Stock Agents Association.
Council's role is to support the management and maintenance of the facility to ensure it continues to meet required standards for conducting livestock sales, animal welfare and OH&S for employees and visitors. This includes the ongoing maintenance of pens, yards and walkways, cleaning of pens, provision of soft fall, maintenance of ramps and truck wash, and general grounds maintenance. The facility also hosts a 24 hour truck wash service for livestock transport vehicles.
The number of livestock sold through the Shepparton Saleyards remains strong following the construction of new selling facilities in 2014/2015 and 2015/2016.
This project is to replace pens in the original livestock pens structure which have been identified as suffering corrosion damage and must be replaced to ensure the safety of the animals, visiting public, stock agents, and saleyard staff.
Summary of Works Occurring
Demolition of existing cattle yards
Scraping out of manure
Construction of new cattleyard pens with a revised layout to improve safety and efficiency
Installation of heavy duty rail and 1.75m high gates
Alignment of gates to allow a straight passage
Renewing the painting and processing race and working platform
Replacement of the crusher and force in the south west corner with a lane to help cattle movement towards the holding yards and loading ramps – in line with industry best practice
Boundary fence concrete bunding to keep soft flooring from working its way out under the
New half round concrete troughs and associated plumbing to be installed
Gates are braced overhead with steel bracing – removable for taller vehicles
Reinstatement of current sprinklers
Project Outcomes
Improved stock flow efficiencies within the Saleyard facility
Improved water quality
Improved Animal welfare – stock movement will reduce stress on animals and reduce time held at saleyards.
Increased safety measures – maintain safe distance and handling measures between people and livestock
Retention of existing gates where possible for repurposing at the Saleyards
Adherence with EPA guidelines
Engagement of local sub-contractors where possible
Timeline
Works will be completed in two stages to allow operation of the Saleyards: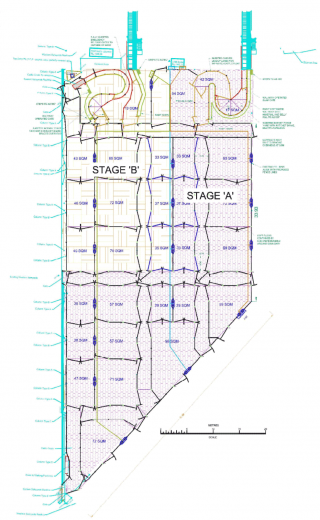 Overall project completion is anticipated by Early-June 2021. The project's scope of works has increased to include a concrete slab under the stock pens and a waste collection pipe.
Progress photos
25 March 2021