Annual Festivals and Events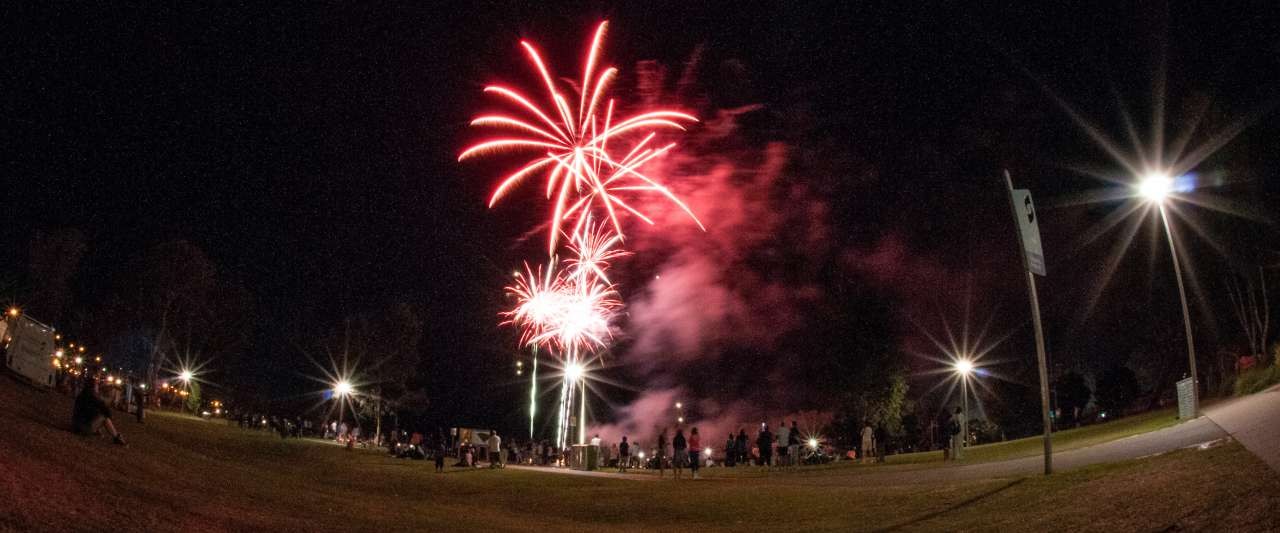 Life in Greater Shepparton is always worth celebrating and during the year festivals highlight all that is great in the region.
Life in Greater Shepparton is always worth celebrating and during the year festivals highlight all that is great in the region.
It's no surprise that food and wine feature high on the festival agenda, beginning with International Dairy Week in January, Mooroopna Fruit Salad Day in February, the Taste of Tatura and the Shepparton Festival all in March.
Sport comes to the forefront with the World Cup Show Jumping, Half Ironman Triathlon and motor events including the huge Spring Car Nationals in November each year.
The Exhibition and Events Complex in Tatura hosts many and varied events throughout the year. This complex, known as Tatura Park, is the home of the world renowned International Dairy Week and also hosts major equestrian events, product exhibitions, etc.
January
Goulburn Valley Junior Tennis Tournament
International Dairy Week (Tatura)
Australia Day Celebrations
Shepparton Custom Bike, Car & Tattoo Show
Summer Film Festival
Greater Shepparton Junior Golf Open
Shepparton Harness Racing Gold Cup
February
Mooroopna Fruit Salad Day Market
Victorian Appaloosa Championship Show
GV Quarter Horse & Western Riding Summer Sizzler
Goulburn Valley Veterans Cycle Club Open
Screen On the Green Outdoor Cinema Festival
Shepparton Motor Museum Annual Motor Show
March
Taste of Tatura
SheppARTon Festival
National Welsh Show
Summer City Market (Shepparton)
Emerge Festival
Summer Film Festival
Antiques, Arms, Antique Militaria Expo
Tatura Agricultural Show
Woodworking, Craft and Furniture Show
Albanian Festival
Tatura and Shepparton Gold Cup
Andalusian Horse Association of Australia Show
National Welsh Pony and Cob Society Show
Australasian School Cycling Cup
Murchison Tomato Festa (part of the Melbourne Food and Wine Festival)
Easter
Easter Lawn Tennis Tournament
Easter Egg-Stravaganza (KidsTown)
Miniature Horse National Easter Show
April
Rotary Motor Show
Scotty's Race
Train and traction engine rally at KidsTown
Merrigum Museum Annual Heritage Day
May
GV Bird Club Annual Sale
Valley to the Vines Bike Ride
Murchison Fun Run
June
Annual Sled Dog Dash
Tatura Art Show
Shepparton Junior Cycling Tour
July
Murchison 10,000 (professional foot race)
Tatura Showjumping Classic
Victorian Hill Climb (Motoring Event)
August
Winter City Market (Shepparton)
Southern Seven Cutting Horse Association Championships
Shepparton Marathon
Spring Dance Sport Competition
September
Emerald Bank Heritage Rally
Shepparton Swap Meet
Mammoth Scale Fly In
Fruit Loop Ride
Australian National Piano Award (biennial - 2014)
GVFL Football/Netball Finals
KidsFest at KidsTown
October
Greater Shepparton Tourism Month
Shepparton Agricultural Show
Relay for Life
Dookie Agricultural Show
Shepparton Garden and Lifestyle Expo
Keith Esson Memorial Cycle Classic
Tatura and Shepparton Racing Club Girls Day Out (Horse Racing)
Dookie Militaria Fair
Victorian Arabian Horse Championships
November
Northern Victorian Show Jumping World Cup Qualifying Festival
OUTintheOPEN Festival
Spring Car Nationals
Campbell's Ironman 70.3 Shepparton Triathlon
Tatura 200 Charity Bike Ride
Appaloosa Association of Victoria
Football Federation Victorian Champions League gala
Victorian Open Bowls Championships
Summer Film Festival
Victorian Quarter Horse State Show
Victorian Arabian Championships
GV Reigning Horse Water Wheel Classic
Bendigo Regional Appaloosa Show
GV Western Riding Club State Quarter Horse Show
Tatura Spring Showcase (horse event)
December
Toolamba Bush Christmas Festival
Murchison Twilight Christmas Festival
Italian Plate Day (Racing)
Greater Shepparton Junior Basketball Tournament
Carols by Candlelight celebrations
Shepparton Junior Tennis Classic
Victorian All Welsh Horse Show
Christmas Track Cycling Festival
New Years Eve Festival
More information
More information about these festivals and events may be obtained from the Greater Shepparton Visitor Centre. Call toll free 1800 808 839 or view our online Calendar of Events.
Greater Shepparton also hosts an extensive calendar of performing arts and performances. For a full comprehensive listing visit the Riverlinks website.