Shepparton Regional Saleyards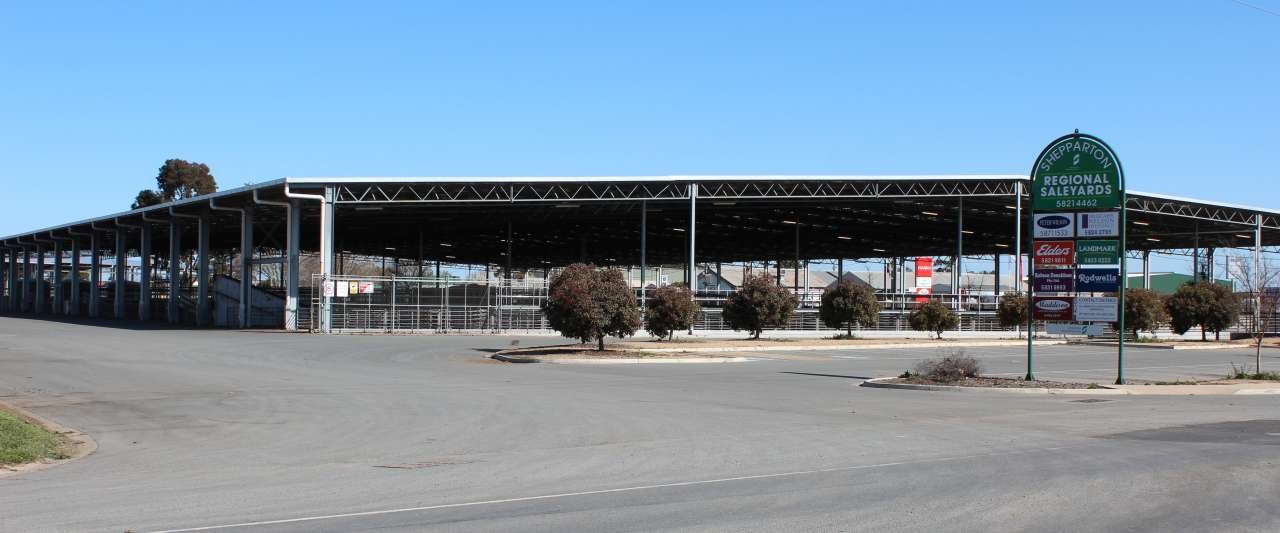 The Shepparton Regional Saleyards is a modern facility with an emphasis on providing a comfortable environment for clients, agents, staff and stock.
Services
Roofed sheep and cattle yards with soft standing pens
NSQA certification
Avdata-operated truck wash
Comfortable and convenient cafe
The saleyards operation is subject to ongoing improvement strategies, and provides user friendly management.
Sales
Following is a timetable of the various sales that occur regularly at the Shepparton Regional Saleyards.
Monday

Calves - 10.00 am
(During peak season - Please phone Saleyards Management to confirm days and times.)

Tuesday

Cattle - 8.30 am

Friday

Sheep / Lambs - 10.00 am
Store sales follow vealers on Tuesday. Special sales are held by arrangement.
Currently all sales have COVID-19 crowd restrictions. Please contact your agent, or Saleyard Managment before attending in person or sending livestock.
Weekly Sales Reports
Roofed Cattleyards
Roofed cattleyards provide a further incentive for cattle care at the Shepparton Regional Saleyards, providing the most up-to-date selling environment for your stock. The yards provide soft standing pens to ensure cattle remain calm and comfortable, and in the best condition. The conditions also contribute to the comfort of clients and staff.
Agents
The agents operating through the saleyards are:
Name
Location
Contact
Phone
Email
Elders
Shepparton
Andrew Kyle
0400 827 257
nikki.pianto@elders.com.au
Joe Allen
0428 182 932
Nutrien
Shepparton
Office
(03) 5821 4822
emma.muto@landmark.com.au
Levi Cornish
0427 769 777
Brian McNamara
0419 963 487
Ben Minogue
0438 145 926
Mulcahy Nelson Livestock Pty Ltd
Tatura
Office
(03) 5824 2765
admin@mulcahynelson.com.au
Sam Nelson
0408 386 491
Northern Victoria Livestock
Sale
Jayden Ferrari
0400 295 867
shelley@wellingtonlivestock.com.au
Craig Cox
0400 106 949
Kat McLeod
0418 758 905
Peter Wilson Livestock
Shepparton
Peter Wilson
(03) 5871 1533
admin@peterwilsonco.com
Andrew Dalton
0499 551 915
AWN Robson Donaldson
Shepparton
Office
(03) 5831 8993
shepparton@awn.com
Scott Donaldson
0427 351 717
Cody Fogarty
0437 176 236
Peter Stevenson
0417 313 660
Location
The Saleyards are located at 48 New Dookie Road, Shepparton.
Contact Information
For information about the Shepparton Regional Saleyards, contact:
Australian Saleyard Management Unit Trust
Office: (03) 5821 4462

Brendan Carey
Mobile: 0474 822 846
Email: bcarey@scanclear.com.au