Shepparton Aerodrome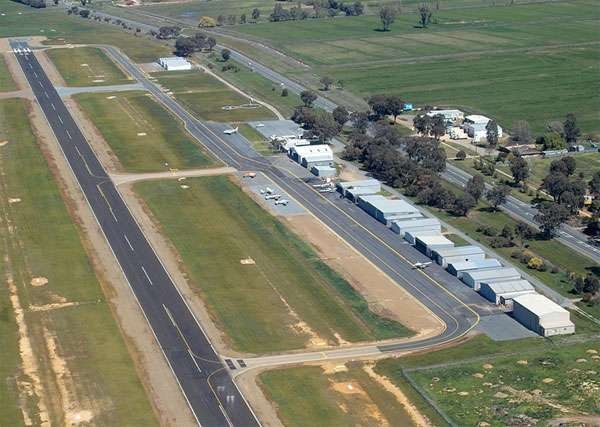 The Shepparton Aerodrome is located 8 kilometres south of the Shepparton CBD on Melbourne Road, Kialla. It is at latitude S 36° 25'7", longitude E 145° 23'6" and altitude 374 feet. Landing fees apply.
Runways
The aerodrome has two active runways:
The 18-36 Runway is 1380m with a sealed width of 18m and was reconstructed in 1992 to withstand a turbo prop SAAB 340. Each end of the main runway is fitted with a PAPI system.
The 09-27 Runway is gravel pavement with a length of 423m and width of 30m.
Taxiway and apron
Taxiways have a sealed width of 10m. A sealed apron and tie down areas are provided in front of the northern hangars.
Refuelling facilities
World Fuel Services provides Avgas at Shepparton Aerodrome via a 24/7 bowser with a twenty (20) metre hose and large LED overhead display. Payment can be made with a WFS carnet card or Visa/Mastercard card via a smartphone app. Please contact Chris (the local WFS operator at Shepparton) on 0428 946 172 for any queries or need any support with your aviation refuelling needs.
Navigational aids
Navigational aids at the aerodrome include a Non Directional Beacon (NDB), Automatic Weather Information Broadcast, Unicom Service Operations and Aerodrome Frequency Response Unit (AFRU) and PAPI (Precision Approach Path Indicator) System.
Pavement concession permits
For pilots wanting to land with planes heavier than 5700 kg, please contact the Aerodrome Manager to arrange a possible pavement concession permit.
Special events
The aerodrome is available for special event bookings. Please contact the Aerodrome Manager in writing to arrange bookings.
Operations
Greater Shepparton City Council appoints an advisory committee to advise Council on operational and management matters.
Committee membership comprises:
GV Aero Club representative - Simon Greig
Commercial aero operators representatives - Allan Cole (Chairperson) and Christopher Gregory
Community representatives appointed by Council - Ken Muston, Tom Garrett and Michael Muller
Council's representative - Cr Dinny Adem
Conditions of use
The document available for download below outlines the conditions under which you use the infrastructure, facilities and services provided at the Shepparton Aerodrome by Council. If you use any of these services you accept these conditions.
Fees and charges
Fees and charges can be found on the Fees and Charges page.
Charters and flying training
For information regarding charter flights please contact Air Charter Today on 0413 138 906.
Links
Civil Aviation Safety Authority (CASA)
CASA's primary function is to conduct the safety regulation of civil air operations in Australia and the operation of Australian aircraft overseas.
Air Services Australia
Air Services Australia is a government-owned corporation providing safe and environmentally sound air traffic control management and related airside services to the aviation industry.
Australian Airports Association
The Charter of the Australian Airports Association is to facilitate cooperation among all member airports and their many and varied partners in Australian aviation, whilst maintaining an air transport system that is safe, secure, environmentally responsible and efficient for the benefit of all Australians.