The architecture competition for a new SAM attracted 88 applications through Greater Shepparton City Council's tendering process. The five finalists were chosen to develop concept designs for the second stage of a two-stage competition endorsed by the Australian Institute of Architects to select an architectural design for the new museum. A seven member jury assessed the applications and shortlisted to the five designs.
The five final architecture teams have provided display ready concept drawings which will be on public exhibition until Sunday 5 February 2017. The final design will be chosen by the seven member jury and the winner announced on 27 April 2017. The selected winner will be appointed to develop a detailed design.
Members of the community are encouraged to view the exhibition, and comments by visitors will be taken into account by the jury.
The five finalists are Denton Corker Marshall Pty Ltd, John Wardle Architects, Kerstin Thompson Architects, Lyons and MvS Architects.
Greater Shepparton City Council Director Community Kaye Thomson said the five design concepts were very exciting. "We are really pleased to see such unique and interesting design concepts being developed for the competition. Each one is different and a stand out in their own right. All of them are sympathetic to the surrounding environment of the Victoria Park Lake and will provide a significant entry point to the southern end of the CBD."
"To develop the concept designs each of the five architect teams was provided with a more detailed brief and was paid an honorarium of $7,000. The winning entry, announced in April, will receive a prize of $10,000," said Ms Thomson.
"The winning design will result in a commission to the successful entrant, who will be appointed to work with Greater Shepparton City Council and SAM stakeholders to further develop the design," she said.
The new SAM building will also house the Visitor Centre and Gallery Kaiela.
PROFILES
Denton Corker Marshall Pty Ltd
Denton Corker Marshall brings a wealth of experience and expertise and is an internationally recognised design practice earning its reputation for creative, distinctive and responsive design. It is a three times winner of the country's most prestigious architectural award, the Sir Zelman Cowen Award for Public Buildings for Melbourne Exhibition Centre, Melbourne Museum and Anzac Hall Australian War Memorial Canberra.
Three times winner of the AIA International Architecture Award for Stonehenge Visitor Centre and Interpretative Museum, Australian Embassy Beijing and Manchester Civil Justice Centre UK. Also winner of multiple design awards for Brisbane South Bank Precinct and Grand Arbour and Webb Bridge in Melbourne. Other projects include Australian Pavillion, Venice Giardini della Biennale, Venice; redevelopment of the heritage Magill Estate buildings at Penfolds Magill Estate in South Australia and masterplanning concepts for Victoria's Shipwreck Coast Interpretive Centre.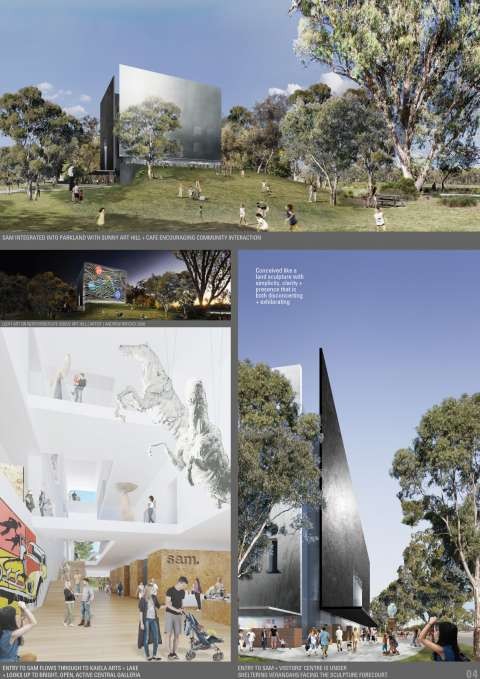 John Wardle Architects
The John Wardle Architects (JWA) team is highly experienced and have twice been awarded the Sir Zelman Cowen Award for Public Building's at the Royal Australian Institute of Architects National Architecture Awards. Many of projects have been for significant cultural institutions such as museums, botanic gardens, universities and national parks, while others have been part of urban developments.
Experience includes design for the Bruny Island Community Hall in Tasmania, Melbourne School of Design (creative hub for University of Melbourne), Australian Garden in Cranbourne, The Nigel Peck Centre for Melbourne Grammar School, The Hawke Building in Adelaide, Samstag Museum in Adelaide, Kaurna Building for UniSA and currently working for Major Projects Victoria to design and deliver the Tanderrum Bridge that will connect Birrarung Marr with Melbourne Park tennis precinct.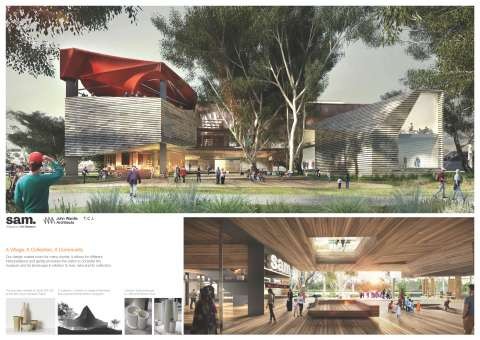 Kerstin Thompson Architects
Kerstin Thompson Architects create immersive, restorative, innovative and meaningful places in which landscape, interior and architecture are uniquely integrated. Their work is defined by its clarity of approach and sensitivity to place. Most recent projects include redevelopment of Broadmeadows Town Hall, Victorian College of the Arts School of Art in Southbank, Marysville Police Station and Birralee Primary School.
Other projects include the Monash University Museum of Art and Ian Potter Sculpture Forecourt, Jewish Holocaust Centre, Sacred Heart Refurbishment Project at Abbotsford Convent, Sunbury Community Arts and Cultural Precinct Masterplan and Royal Botanic Gardens Cranbourne Visitor Centre.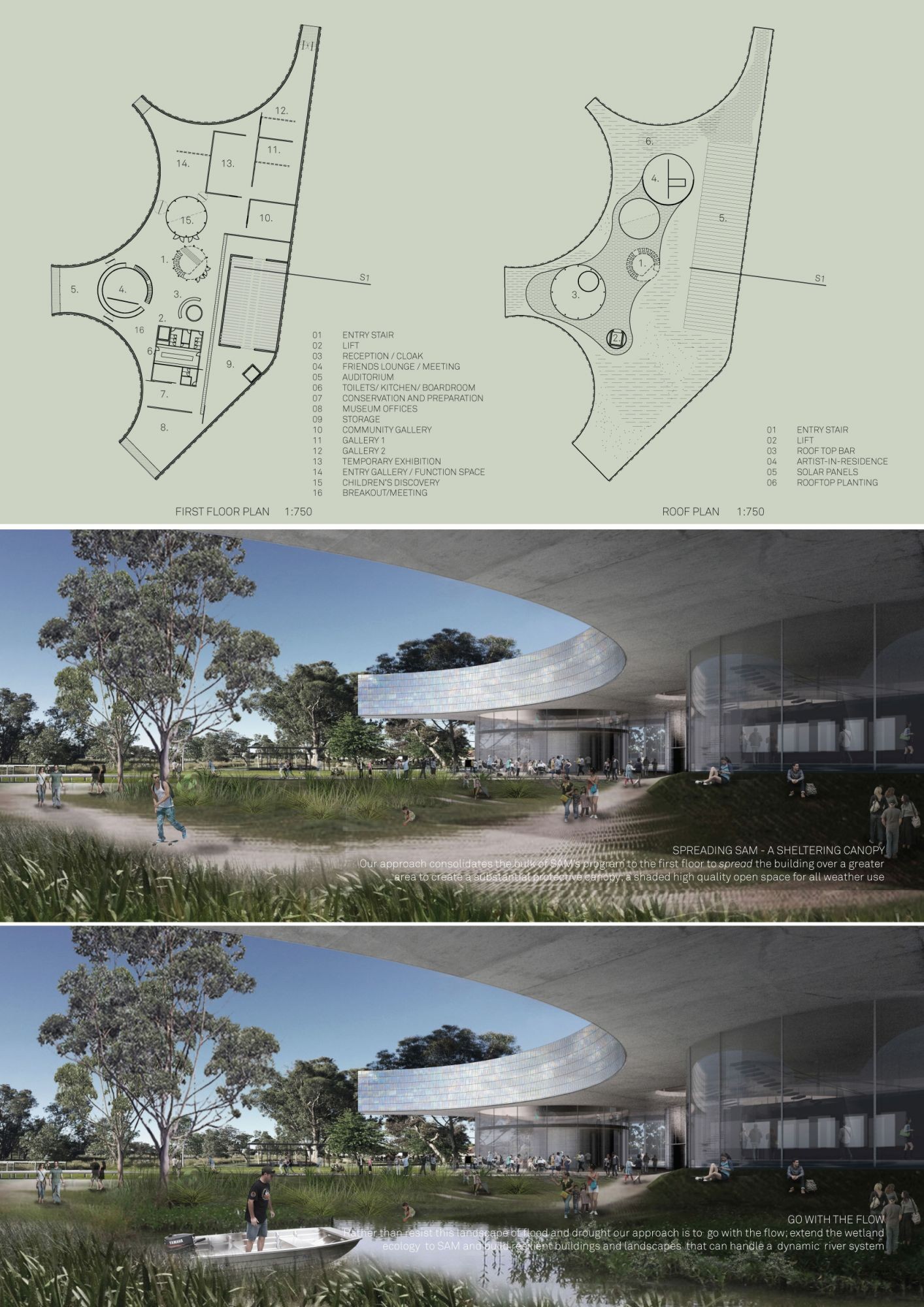 Lyons
A one team design alliance has been brought together comprising of Taylor Cullity Lethlean, Maudie Palmer and Greenaway Architects. This team has a wealth of skills, expertise and experience in the design of contemporary art galleries and museums, the design and delivery of local government and community projects and demonstrated capability to integrate art, architecture and landscape into a unique design response.
Lyons has current expertise in designing innovative multilevel building, including a new 'vertical campus' building for RMIT University in Melbourne and a recently completed 'vertical community' building for the City of Brimbank, The Housemuseum in Melbourne, Koori Heritage Trust in Federation Square, Yagan Square in Perth and a new Contemporary Art Museum in Melbourne's East.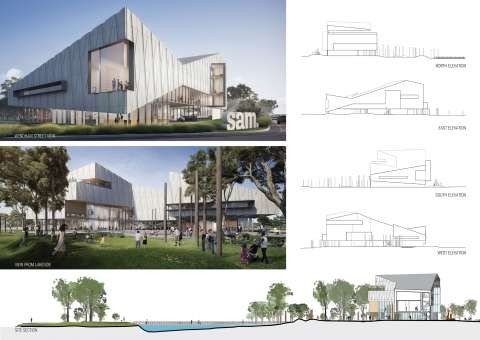 MvS Architects
Lead by Jan van Schaik, MvS has experience in the designing of galleries and exhibition spaces including for diverse, valuable, sensitive and precious collections. They have designed and delivered projects with construction value of over $40million. They have a track record of designing unique and compelling award winning public buildings and public realm landscapes and have detailed and intimate knowledge of the ancestral and contemporary stories of the environs and diverse communities of the Greater Shepparton Area.
MvS Architects have designed Edithvale Wetlands Centre for Melbourne Water, Victorian College of Arts library and the central curriculum building, RMIT University Library at RMIT's major Swanston Street building, redesigned Art Gallery of South Australia for "Parallel Collisions" in 2012 and redesigned Art Gallery of New South Wales of the "Franco and Amina Belgiorno-nettis and Family Contemporary Galleries.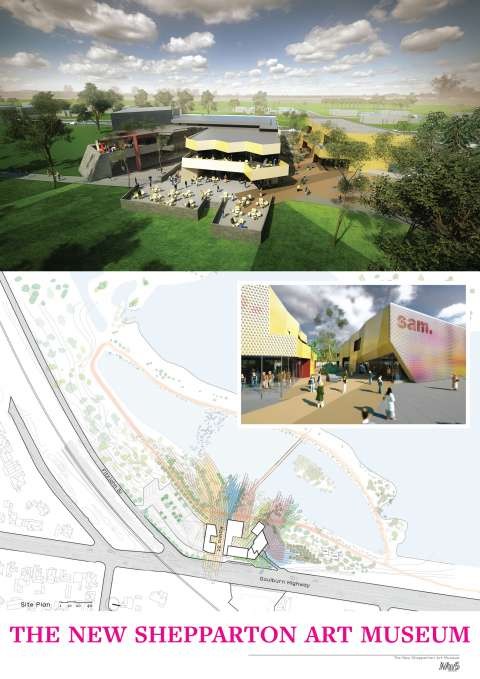 TIMELINES*
16 January 2017 Exhibition of five finalist designs for public comment
5 February 2017 Exhibition closes
21 February – 18 April Jury report, executive briefings, council briefings
18 April 2017 Council meeting
27 April 2017 Public announcement of winner
* These timelines may be subject to change.