Shepparton Showgrounds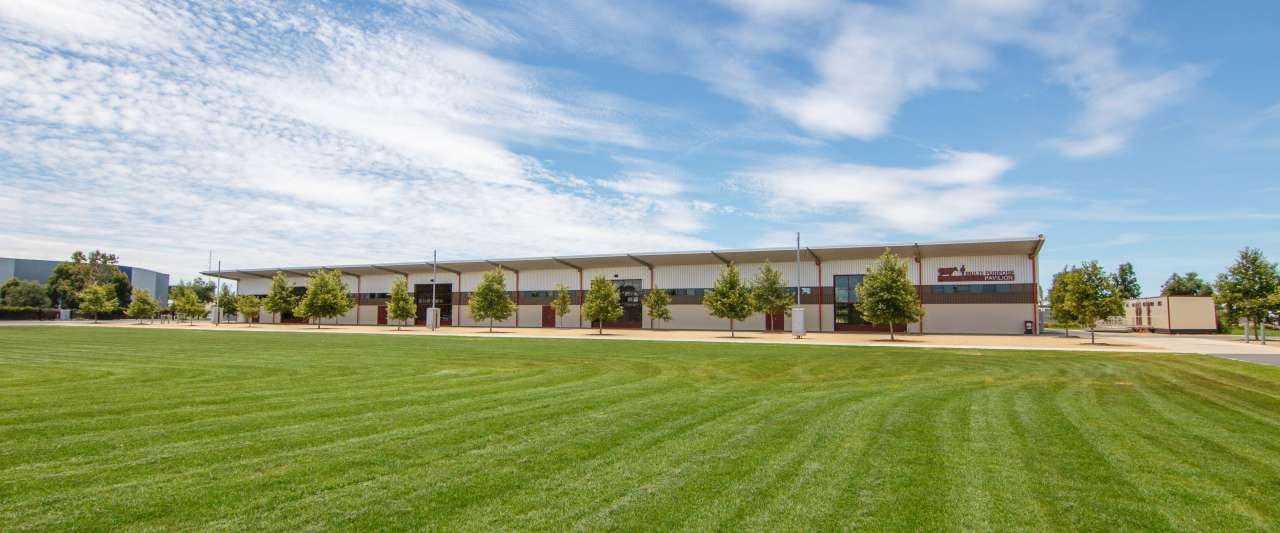 The Shepparton Showgrounds complex boasts large open areas, allowing for easy transport access for the freight and materials required to stage events on a grand scale. Large convenient parking spaces and world class facilities are all designed to ensure the success of your next event.
If you wish to enquire about COVID-19 vaccinations please call Department of Health and Human Services on 1800 675 398.
Location
The Shepparton Showgrounds complex is located on High Street between Thompson and Archer Streets. The complex takes up the entire block north to Fryers Street. There are multiple entrance gates surrounding the complex to ensure easy access to all areas.
Located just a few minutes' walk from the central business district, this venue ticks all the boxes.
The Showgrounds has a number of spaces available for hire including:
The McIntosh Centre
The McIntosh Centre will capture the magic for your next event. Its refurbished beauty and charm of yesteryear cleverly combine with matching modern facilities, all linked together with the central promenade and outdoor areas to provide a truly unique venue.
Large timber doors, polished concrete floors, exposed ceilings, leafy trees and green gardens set the scene in climate controlled comfort with ample room to move, all ensuring the success of your special event.
The Multi-Purpose Pavilion
The Multi-Purpose Pavilion will cater for large conferences, conventions, exhibitions, meetings, gala and special events.
The moment you set your eyes on our facility, you'll understand why this location will work for you - space. The multi-purpose pavilion has a flat floor measuring 100 metres in length, 25 metres in width and ceiling height of 7 metres to the apex of the room with all doors allowing 6 metre access to the outside promenades. One of our main features are the six floor to ceiling glass doors; four to the West and two to the East that not only allow ample natural light into the facility, they also provide easy access for large vehicles or if equipment needs to be delivered into the Centre.
Ample electricity, internal water outlets, fly-bars for signage display as well as a large roller door for access all add ease for multi-purpose pavilion venue hirers.
With a building of this standard and the flexibility it can offer, make our venue the next for your major trade show or event.
Open Space Grassed Area
The Open Space Grassed Area is second to none in regional Victoria. Meticulously cared for this space can be used for a myriad of purposes – concerts, vehicle displays, sporting events, circuses… the list is endless.
Placed centrally in the Showgrounds this space can be minimised by the simple addition of temporary fencing or strategically placed staging, or left as one big open area with plenty of room for any activity.
Promenades around all sides of the open space provide water and electricity to help facilitate, while light towers overlooking the open space make this area useful for day and night activities.
Grandstand
The exposed timber beams and classic features of the 1914-built Grandstand sees this Grand Old Lady take pride of place surrounded by modern facilities.
The Grandstand is a picturesque backdrop for wedding or debutante photos with its old world ambience, but doubles as a usable viewing platform for the open spaced grass area.
The function room beneath can also be used as an additional area for venue bookings that might require a secure, easily accessible space.
Bookings, Hire Charges and Site Plans
Thanks for your interest in hiring the Shepparton Showgrounds! Submitting an Expression of Interest (EOI) is the first step to hiring the Showgrounds events facility. Council will use the EOI to assess your intended use of the facility, and request further information where required.
Your Expression of Interest (EOI) must be submitted three months prior to the event date. All other documentation for your event will be required eight weeks prior. Failure to provide may limit the ability of your event to proceed.
We look forward to welcoming you to our fantastic facility right in the heart of Shepparton! If you have any questions please call or email.
Events Facilities Coordinator: 03 5832 9700
Email: events@shepparton.vic.gov.au
If you wish to enquire about COVID-19 vaccinations please call Department of Health and Human Services on 1800 675 398.