One Tree Per Child / National Tree Day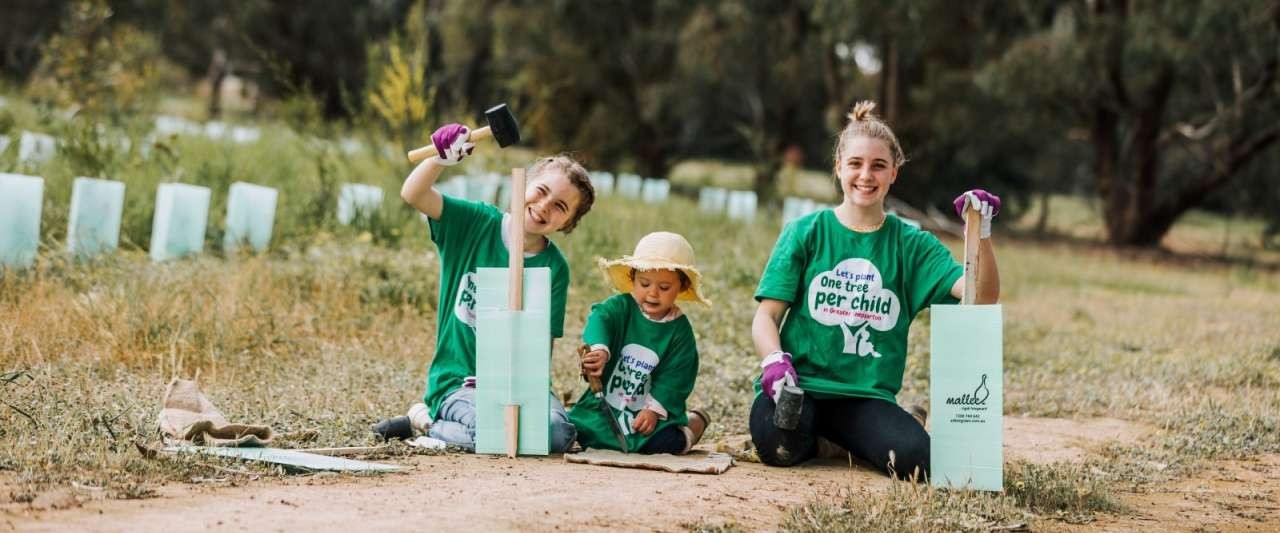 Planting a tree is often a child's first act of volunteering for the benefit of our entire community. Let's leave the municipality in better condition than what we inherited. Let's plant a tree for every child and enjoy watching the trees grow as our children grow!
One Tree Per Child is a global initiative founded by Olivia Newton-John and Jon Dee, who also founded the highly successful National Tree Day Program. In 2017 Greater Shepparton City Council committed to the One Tree Per Child Program and great outcomes have been celebrated from the project each year.
Although called One Tree Per Child, the species planted under the project in Greater Shepparton include indigenous trees, shrubs, groundcovers and grasses that have largely been cleared from our region.
Each year the Greater Shepparton City Council facilitates a native plant to be planted for each child (person aged under 18 years). In 2023 a total of 54 different species of trees, shrubs, groundcovers and grasses were planted to help restore a diverse range of flora species to provide habitat for woodland birds and other native fauna species.
This year, the One Tree Per Child Project planted 25,500 plants, and in May 2022 we celebrated planting a total of 100,000 plants in the municipality.
This planting target could only be achieved through partnerships with many schools, kindergartens, childcare centres, Landcare and community groups.
Help Greater Shepparton grow into a greener, happier community
Get Involved in 2024
Schools, businesses and community groups are invited to contact Council to nominate a planting location, or to request to plant at a Council-prepared site. Planting location nominations are accepted year round, and our planting season occurs between 1 May and 31 August each year.
Greater Shepparton City Council provides indigenous plants, guards, stakes and weed mats. To get involved please complete the relevant Expression of Interest form below and email the form to onetreeperchild@shepparton.vic.gov.au
Find out more about the global One Tree Per Child program.