Water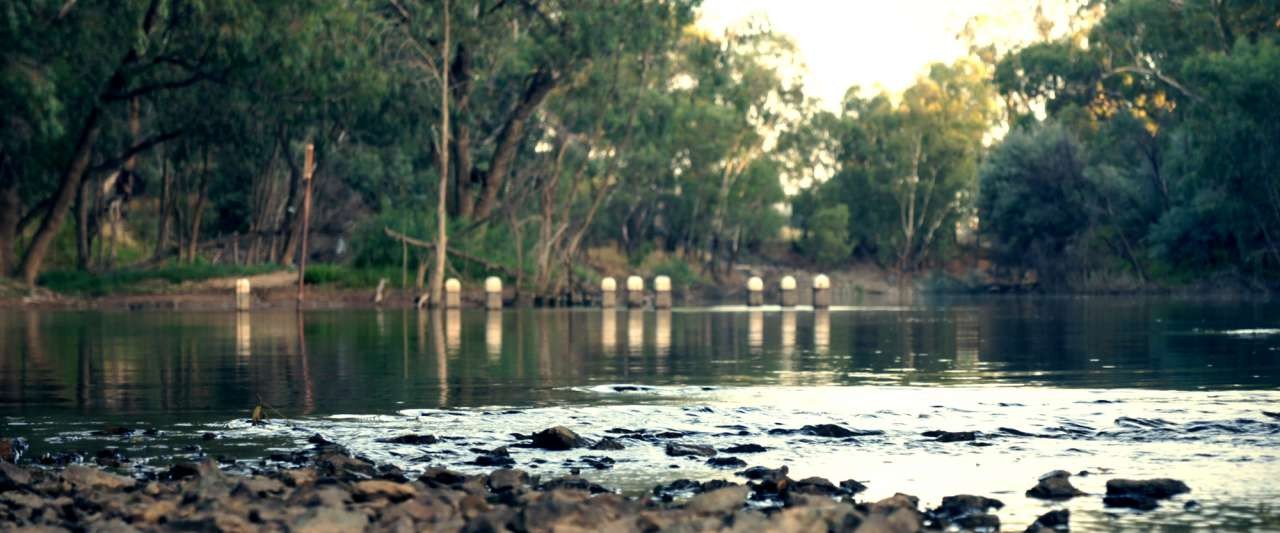 The river systems within our municipality provide essential ecosystem services, support highly significant ecosystems and their riparian zones often contain the only remaining native vegetation in the surrounding landscape.
Our Rivers - The Goulburn and Broken Rivers
The Goulburn and Broken River systems are key assets of the Greater Shepparton region, and Shepparton is fortunate to be sited near the confluence of these two important rivers. These rivers flow into the Murray River and consequently form part of the Murray Darling Basin. These rivers and surrounds contribute to our local environment by providing vital habitat for wildlife, water for townships and agricultural irrigation, and contribute to our cultural wellbeing by providing recreational opportunities such as bushwalking, fishing and other outdoor activities.
Vegetation along the rivers is predominately Eucalyptus camaldulensis (River Red Gum) with understories comprising grasses, wattles and native peas. Wildlife such as squirrel, sugar and feather-tailed gliders, ringtail and brushtail possums, native fish including Murray Cod, Murray perch and silver perch, platypus, turtles, frogs, echidnas, bats, eastern grey kangaroos, black wallabies, yellow footed antechinus, birds and rakali (native otter) all inhabit our river environs.
A healthy river system relies on high quality water entering the system during rainfall events. Stormwater from urban areas discharge into the river, so rubbish and pollution dropped in these areas can find its way to the rivers, endangering the wildlife that live there. You can do your bit to protect our rivers by ensuring all rubbish is correctly disposed of and prevented from entering the river environs or the stormwater system.
The Goulburn River flows from Lake Eildon through the Goulburn Weir, and is used to deliver both irrigation and environmental water downstream. As such, natural flow and flood regimes have been altered from high flow in winter and low flow in summer, to commonly water held in storage during autumn and winter and released through Spring and Summer to provide irrigation.
This change has impacted on the natural floodplain events that have traditionally occurred in the region and consequently on the biodiversity (plants and wildlife) that inhabit the area. These differing requirements (irrigation and environment) are very complex and difficult to manage, and result in many agencies working together to achieve the best outcomes possible. For more information, visit the Goulburn Broken Catchment Management Authority website.
Our Wetlands
Greater Shepparton has a number of natural and constructed wetlands that provide habitat for wildlife, and are a great location to view native birdlife.
Our natural wetlands include:
Gemmill Swamp in Mooroopna
Reedy Swamp north of Shepparton
Doctors Swamp near Murchison
Loch Garry near Bunbartha
Our constructed wetlands include:
Cussen Park and Lake Bartlett in Tatura
Victoria Park Lake in Shepparton
Sevens Creeks wetland
Kialla Lakes system south of Shepparton
In addition to the habitat they provide, wetlands perform an important water quality role, as they hold water allowing sediments and pollutants to drop out of the water. Our wetlands also play an important role in flood mitigation, and are key sites for many migratory bird species that pass through our region. Council partners with Birdlife Australia for the annual Backyard Bird Count, and is monitoring three key bird species in the municipality – the Superb Fairy Wren, Laughing Kookaburra and Noisy Minor.
In the 2017 Backyard Bird Count, the top 10 bird species recorded in our municipality were:
House sparrow*
Welcome swallow
Galah
Superb fairy-wren
Australian wood duck
Common starling*
Australian magpie
Common myna*
Common Blackbird*
Crested pigeon
*Denotes an introduced species
The Lower Goulburn National Park
The Lower Goulburn National Park was listed in 2010 and encompasses the Goulburn River downstream from Shepparton through to the Murray River near Echuca. The park is an important wildlife corridor, and provides the opportunity for visitors to explore through canoeing, swimming and fishing. For further information, visit the Parks Victoria website.
RiverConnect
RiverConnect is a unique partnership between the Greater Shepparton City Council, the Goulburn Broken Catchment Management Authority and our residents to connect our communities to our rivers. Learn more about the Goulburn and Broken Rivers by visiting the RiverConnect website.
Floods and the Environment
The municipality of Greater Shepparton is located on a floodplain and is subsequently expected to experience some type of flooding on a semi-regular basis. Water management is a key tool to minimise damage to assets and communities during floods, whilst also ensuring flood events are able to reach key environmental sites to maintain our natural environments and animal populations. Most of the habitats in the region are flood-adapted, meaning they require periodic flooding to maintain their health and some species require flood events to successfully breed. This requires careful management and understanding of complex systems, and a partnership approach with other agencies and organisations.
For further information of flooding in our region, visit Council's Flood Information page or Flood Victoria.
Water Management Partnerships
Council works closely with other agencies to monitor and manage water and flood events. To understand more about how water is managed within Victoria, visit Victoria's Water and Catchments website.
Goulburn Broken Catchment Management Authority
The Goulburn Broken Catchment Management Authority is the peak natural resource management body in the region, who work to ensure land and water resources are protected and enhanced as well as improving the region's social wellbeing, environmental quality and productive capacity in a sustainable manner.
Goulburn Valley Water
Goulburn Valley Water provides safe and reliable water and wastewater services to urban customers throughout the municipality of Greater Shepparton through water supply systems and wastewater management facilities.
Goulburn-Murray Water
Goulburn-Murray Water is a rural water corporation that manages both groundwater and the region's irrigation delivery network. GMW manages both regulated and unregulated river systems.
Regional Water Monitoring Program
Council is a member of the Regional Water Monitoring Program which monitors river flows, heights and water quality for flood and emergency management and water management purposes. Further information on the program can be found through the DELWP website.
Goulburn Broken Integrated Water Management Forum
The Goulburn Broken Integrated Water Management Forum is a partnership of stakeholders in the Victorian water sector to create better outcomes for communities through the implementation of integrated water management (IWM). All elements of the water cycle are addressed including:
waterways and bays
wastewater management
alternative and potable water supply
stormwater management
water treatment.
Learn more about integrated water management here.
Goulburn Broken Integrated Water Management Strategic Directions Statement
The Goulburn Broken Integrated Water Management Strategic Directions Statement highlights the key challenges in the region and also identifies collaborative IWM opportunities that can improve resilience and liveability in cities and towns in the region. Learn more about the IWM Strategic Directions statement here.
Victorian Floodplain Management Strategy
The Victorian Government has developed the Victorian Floodplain Management Strategy to help communities be better prepared for future floods.
Regional Floodplain Management Strategy
The Goulburn Broken Regional Floodplain Management Strategy presents an integrated catchment planning framework for floodplain management in the Goulburn Broken region and is the primary guide for improving community flood resilience.
Murray Darling Basin Authority
The Murray Darling Basin Authority (MDBA) aims to achieve a healthy working Basin for the benefit of the Australian community.
The MDBA is tasked with the implementation of the Murray Darling Basin Plan.
Murray Darling Association
The Murray Darling Association's purpose is to provide effective representation of local government and our communities at state and federal level in the management of Basin resources by providing information, facilitating debate and informing government policy. The association is also investigating and advocating for more research into the riverbank impacts associated with high water flow events using technologies such as drone footage, to ensure our river banks are protected during water transfers from one region to another. Council is a member of the Murray darling Association.
Council Water Management Documents
Council has adopted a number of plans to manage the quality and quantity of water used within the municipality.
Domestic Wastewater Management Plan 2008
There are approximately 7,000 septic tanks in our municipality that require periodic maintenance and inspections to ensure that they do not become a water quality threat.
The Domestic Wastewater Management Plan (currently under review) aims to protect public health and the physical environment in settled areas, and promote environmental sustainability by reducing the impacts of domestic wastewater on the local receiving environments.
Stormwater Management Plan (2009 review)
Stormwater runoff from our urban areas affects the key waterways of the Broken and Goulburn Rivers, and impacts on plants, animals and users downstream. Litter or sediment entering our waterways are pollutants which reduce water quality, and affect the community on both a local and a catchment scale.
The key goal of the Stormwater Management Plan is to protect and enhance values of receiving waterways. The Plan identifies actions to improve environmental management of urban stormwater and protect the environmental values and beneficial uses of receiving environments. It identifies urban activities that may adversely affect water quality and recommends strategies to protect water quality and beneficial uses from stormwater runoff.
Gross Pollutant Traps
Council and the GB CMA have installed five major Gross Pollutant Traps (GPTs) at key locations throughout the municipality to reduce the amount of litter entering out waterways from the urban stormwater system.
GPTs are located at:
McFarlane Rd, Mooroopna
Vaughan St (west end), Shepparton
Broken River Drive at Colliver Rd, Shepparton
Archer St at River Rise, Shepparton
The Boulevard at Knight St, Shepparton
These structures intercept and trap the litter until the unit is cleaned out, usually every 3 months. The rubbish collected is then transported away and the units fully cleaned. Over 15 tonnes of waste was intercepted in February 2019. These units are costly to install and maintain, but are currently required due to the high amounts of litter entering our stormwater system.
Building and construction sites
Building and construction sites can be major contributors of litter and sediment into our waterways because these sites contain unprotected soil that is readily exposed to the elements (wind and rain) at locations in close proximity to stormwater drains. Council has developed a range of industry stormwater brochures to improve the quality of stormwater runoff from building and construction sites.
Sustainable Water Use Plan (2007)
The Sustainable Water Use Plan aims to reduce Council's water consumption and maximise water reuse. The Plan identifies where and how much potable water Council uses, and contains actions for Council to reduce potable water consumption.
Water Sensitive Urban Design (WSUD)
Water Sensitive Urban Design (WSUD) is a method of designing new residential and industrial developments to treat stormwater before it leaves the local area. Under WSUD, water is filtered through swale drains and 'raingardens' to catch litter and sediments. The water percolates through underground pipes then into a retardation basin for further settling, before being released as cleaner water back into the river system. Kialla Lakes is an example of WSUD which does require some care on behalf of the residents to not disturb or compact their nature strips as this is where the pipes are laid.