Social Competence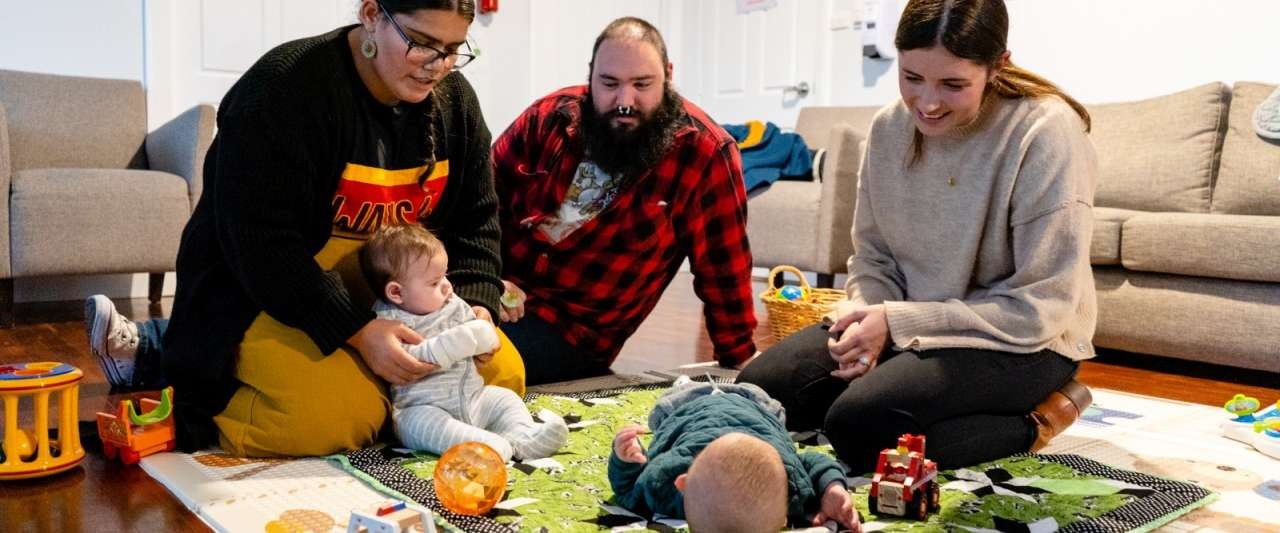 Families and communities are made up of all different types of people. Just like adults enjoy catching up and spending time with friends or family members, children also gain great benefit from doing the same. Meeting and interacting with a range of people in different places can help kids learn important social skills and prepare them for life.
Arabic / عربى Dari / داري Hindi / ਪੰਜਾਬੀ Malay / Bahasa Melayu Swahili / Kiswahili
Going to a playgroup is great for children to play and learn together, as well as an opportunity for parents to socialise. There are lots of playgroups happening across our area. Find one close to you.
Socialising and forming strong relationships helps children develop a sense of self; it builds up their confidence and social skills like teamwork and sharing. Find out how to bond with newborns.
Social skills and social development are important for all children. Watch videos on parents sharing their experiences.
See below for links to some fun activity sheets and information for families:
Supporting your child's social competence
Building children's social skills – Raising Children Network
The Family Haven - Mooroopna: A Community Gem
Discover The Family Haven in Mooroopna – an inviting sanctuary for parents, carers, and their children. No referrals or appointments needed; just walk in and feel at home!
Location: 15-17 Young Street, Mooroopna (formerly the SPC canteen).
Hours: Tuesday to Thursday from 10.00am to 2.00pm.
Features & Services:
A tranquil setting for parents and children to relax.
A space for parents to engage, share experiences, and bond.
A play-centric zone where children can meet peers and revel in fun.
Information on community services and programs, facilitated by approachable staff and volunteers.
Handy transport services available – offering rides to families for pickup and drop-off.
For more insights or to connect directly, reach out to the wonderful Courtney (Family Haven Coordinator) at 0428 736 961 or visit The Family Haven's official website.
Playgroups in Greater Shepparton
'Play is one of the best ways to help children learn and develop skills, including social skills. When you and your child play together, it gives your child the chance to practise turn-taking, coping with winning and losing, following rules and more.' -Raising Children Network
Embark on a rewarding journey with Greater Shepparton's community playgroups, tailored for children under school age and their parents or carers.
Benefits for Children:
Engage in interactive play with peers.
Develop new skills and broaden their understanding of the world around them.
Benefits for Parents & Carers:
Take an active part in your child's playtime activities.
Enjoy the opportunity for a relaxed conversation over a cuppa with like-minded parents and carers.
With the majority of our playgroups available at no cost, sessions typically last between 1.5 to 2 hours each week, striking the perfect balance between play, learning, and bonding.
Click here to explore the various playgroups in Greater Shepparton and consider joining one next week.
Activity Sheets for Child Development
Unlock a world of joy and learning for your child right from the comfort of your home. Our range of activity sheets offers fun, straightforward play sessions that not only entertain but also enhance essential social skills.
By engaging with your child through these activities, you'll foster valuable lessons in turn-taking, sharing, problem-solving, and effective communication.
Available Activity Sheets:
Mirror Mirror – Ideal for ages Birth to 1 year.
Build a Tower – Suitable for children aged 2 to 3 years.
Making Dinner – Tailored for the 3 to 4 years age group.
Kitchen Orchestra – Perfect for kids between 4 to 5 years.
Delve into any of these enriching activities this week and witness the magic of play combined with learning.
Explore Greater Shepparton's Parks and Playgrounds
With the weather warming up, it's the perfect time to embrace the outdoors and reconnect with your community. Head to your local park or playground for a catch-up with friends and family. Bring a picnic to share, let your kids have a blast on the playground, toss a frisbee or a ball, and enjoy quality time while chatting about your day or week.
Check out our diverse range of parks, playgrounds, and reserves here.
Activities in the Park - Rediscover the Joy of Play
The 'Activities in the Park' program is in full swing, offering lots of exciting activities throughout Greater Shepparton. It's an excellent opportunity for both children and adults to participate in fun, enriching experiences.
Why not check out the Bush Playgroup, running every Tuesday at the Kialla Botanic Gardens from 9.15am to 10.45am. It's the perfect opportunity for children to engage with others while exploring the great outdoors. And while the kids play, parents have the chance to connect with other parents in the community.
Stay in the loop with all the great activities happening over the next month by downloading the official Get Mooving App or visiting the Get Mooving website.
Babies love to socialise too!
Local play and social groups for parents/carers of infants
Supporting children with special needs to build social skills
All Play Learn Grow Domains