The survey is a national data collection undertaken to measure the five developmental areas of physical health and wellbeing, emotional maturity, social competence, language and cognitive skills, and communication and general knowledge in the first year of formal primary school education. The first census was undertaken in 2009 and children are considered either 'on track', 'developmentally at risk' or 'developmentally vulnerable'.
Greater Shepparton City Council Manager Early Years, Sally Rose said Greater Shepparton saw an increase in the level of vulnerability between the years of 2009 and 2018 which has been very concerning for our community.
"The 2021 Greater Shepparton AEDC Community Profile shows we have significantly improved in all five domains and reduced the level of vulnerability experienced by children," said Ms Rose.
"This is a positive result and one which should be celebrated. It means we have less children who are experiencing vulnerability and more children who are developing well in the years prior to school.
"However, the level of vulnerability of children in the Greater Shepparton region remains higher than the Victorian average and other Victorian regional areas, meaning we still have work to do."
Greater Shepparton City Council Mayor, Cr Shane Sali, said the data was an important measure for recognising how our children are progressing.
"Kids are the future of our region and it is important they start on a level playing field with the rest of the nation. There is so much potential in the generations coming after us so understanding where there might be some areas that need attention is critical," he said.
"We want our kids to have the best opportunity in life and we cannot underestimate those skills they learn at an early age. I'm pleased to see that we are tracking positively and there has been an improvement in the key measures."
The AEDC Community Profile also includes information on 14 'micro' communities within the municipality such as Mooroopna, Tatura, Shepparton central, Shepparton north-west and Kialla.
"This data helps identify the communities where we need to focus activity and effort. It is pleasing to note the majority of these micro communities have seen a significant reduction in the level of vulnerability from 2018 to 2021," Ms Rose said.
The Greater Shepparton Best Start Early Years Plan 2020-25 references the AEDC data and provides guidelines for programs run by organisations, services and activities in Greater Shepparton. Council has a Best Start Co-ordinator to facilitate the actions in the Plan.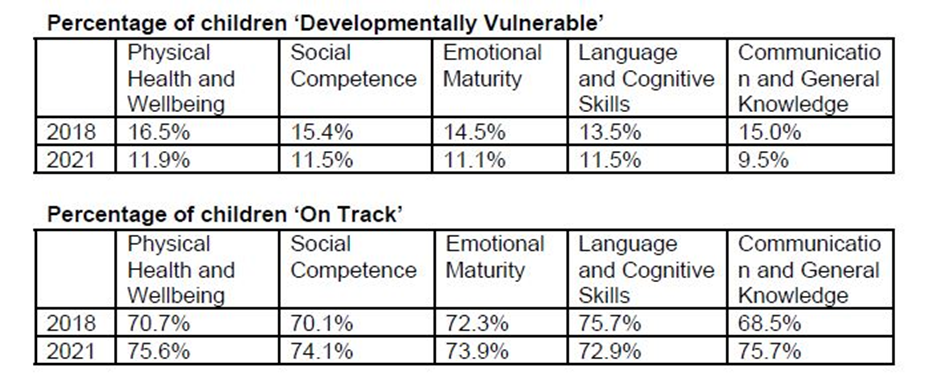 For more information on the Best Start Early Years Plan visit Greater Shepparton.