Sports Facilities and Stadiums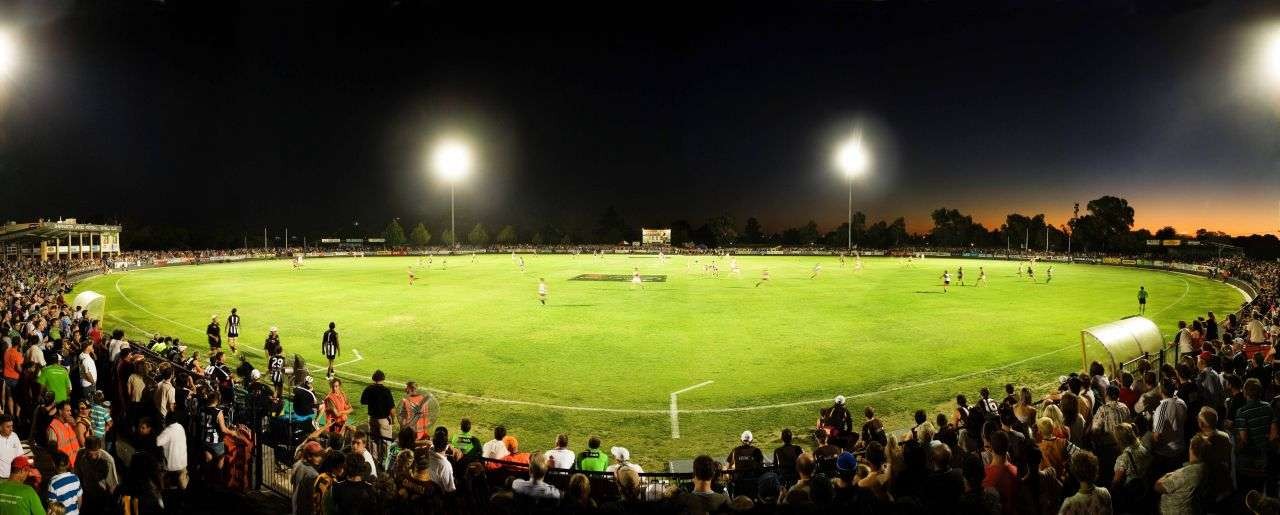 Greater Shepparton provides a range of quality sporting facilities including: Hiring of pavilions, sporting grounds, reserves and public halls.
Council Sports Facilities and Stadiums
Ardmona Recreation Reserve — Lenne Street, Ardmona
Bunbartha Recreation Reserve — Lock Garry Road, Bunbartha
Central Park Recreation Reserve — Central Avenue, Shepparton East
Chas Johnson Reserve — Corner of Balaclava Road and Packham Street, Shepparton
Congupna Recreation Reserve — Congupna-Katamatite Road, Congupna
Cooma Recreation Reserve — Kyabram-Cooma Road, Cooma
Deakin Reserve Shepparton — Nixon Street, Shepparton
Dookie Recreation Reserve — Baldock Road, Dookie
Frank Howley Reserve — Albert Street, Tatura
John McEwen Reserve (Shepparton Sports Precinct) — Brauman Street, Shepparton
Katandra Recreation Reserve — Union Road, Katandra West
Kialla Park Reserve — Reserve Street, Kialla
Kialla West Recreation Reserve — Devine Road, Kialla West
Lemnos Recreation Reserve — Lemnos North Road, Lemnos
Merrigum Recreation Reserve — Morrissy Street, Merrigum
Mooroopna Recreation Reserve — McLennan Street, Mooroopna

Mooroopna Main Oval
John Gray Oval
Leon Heath Ovals
Bernie Trevaskis Oval
Pee Wee Young Oval
Netball Courts
Mooroopna Fire Track
Mooroopna Bowls Club

Murchison Recreation Reserve — River Road, Murchison
Pinelodge Recreation Reserve — New Dookie Road, PineLodge
Princess Park — Quinan Parade, Shepparton
Rumbalara Recreation Reserve — Mercury Drive, Shepparton
Shepparton North Recreation Reserve — Barmah Shepp Road, Shepparton
Shepparton Sports Precinct — Numurkah Road, Shepparton

Shepparton Sports Stadium
Main Soccer Pitch
Multipurpose fields 1, 2 & 3
Hockey Pitch
Athletics Track
Netball Courts.
WB Hunter Reserve
Velodrome
BMX Track
Radio Control Car Track
Murray Slee Pavilion

Tallygaroopna Recreation Reserve — Smith Street, Tallygaroopna
Tatura Park — 23 Hastie Street, Tatura

Tatura Park Equestrian Centre
Tatura Park Western Oval
Tatura Netball Courts

Toolamba Recreation Reserve — Wren Street, Toolamba
Undera Recreation Reserve — Echuca Road, Undera
Vibert Reserve — 290 - 300 Archer Street, Shepparton

McGuire College Oval
Western Oval
Eastern Oval
Vibert Reserve Pavilion

Victory Park — 56 - 68 St Georges Road, Shepparton
Shepparton Sports Stadium Future Direction Plan
The Shepparton Sports Stadium Future Direction Plan is a visionary document that is dependent on accessing future funding.
The proposed development will provide our community with an additional two courts, including a 2000 seat show court and events space, the addition of six new squash courts, new multi-purpose room, new entrance and reception, refurbishment of existing courts and multi-purpose room, refurbished amenities and a new mezzanine sports house and administrative hub.
Deakin Reserve Future Direction Plan
The Deakin Reserve Future Directions Plan has been developed to provide Greater Shepparton City Council with a vision for supporting the future use, development, management, and maintenance of Deakin Reserve which responds effectively to current and future community need.
The Plan considers the needs and expectations of the local community, Council's priorities for improving the liveability of the Greater Shepparton community and condition and functionality of the Reserve.