Cycling and Walking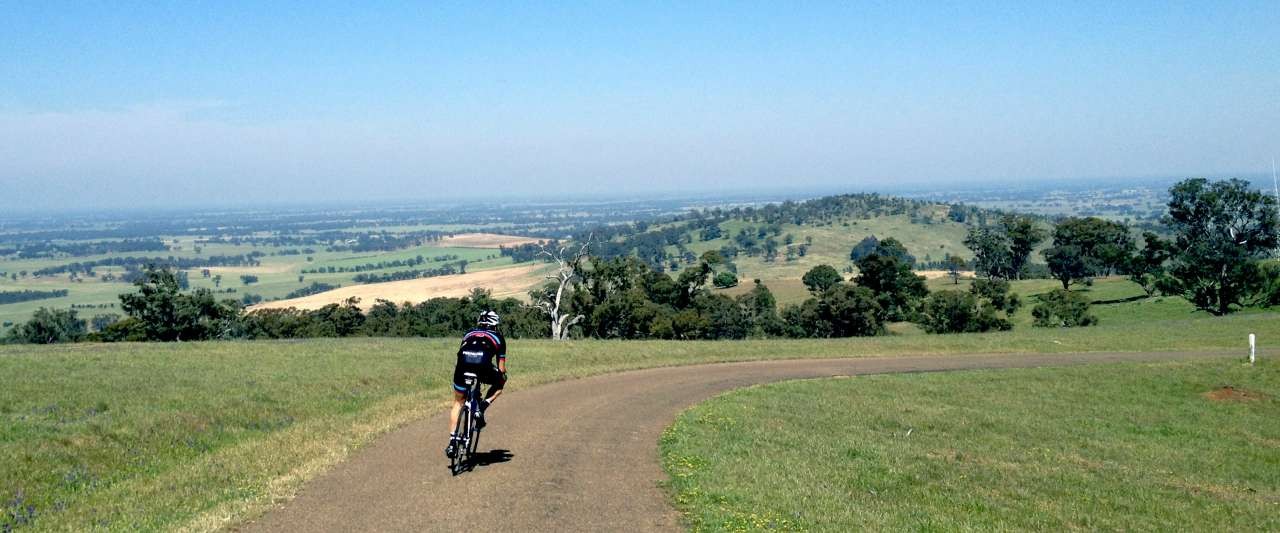 Greater Shepparton offers cycling enthusiasts and pedestrians a variety of paths and routes to explore. Whether you are seeking a leisurely ride for the family, a scenic bush walk or the ultimate off-road experience, Greater Shepparton has it all.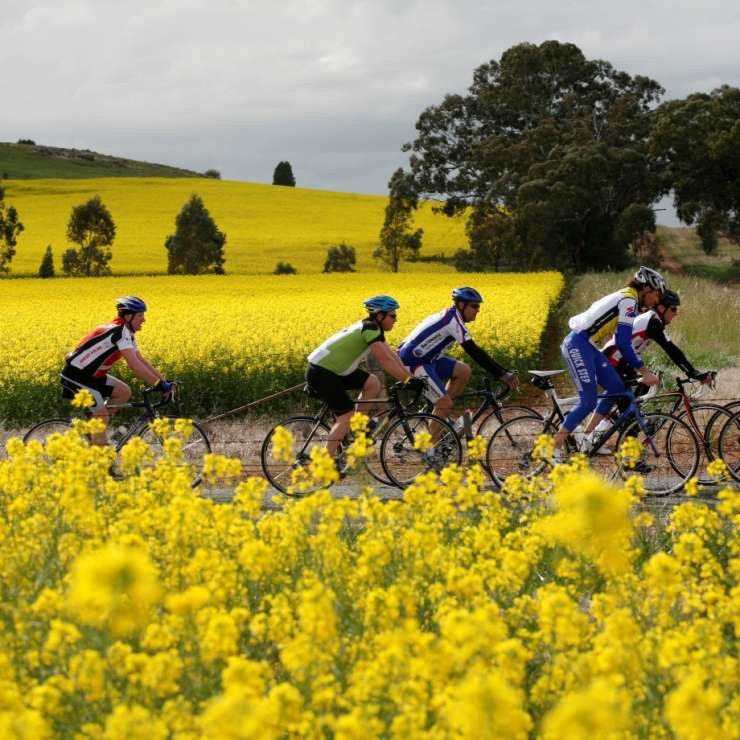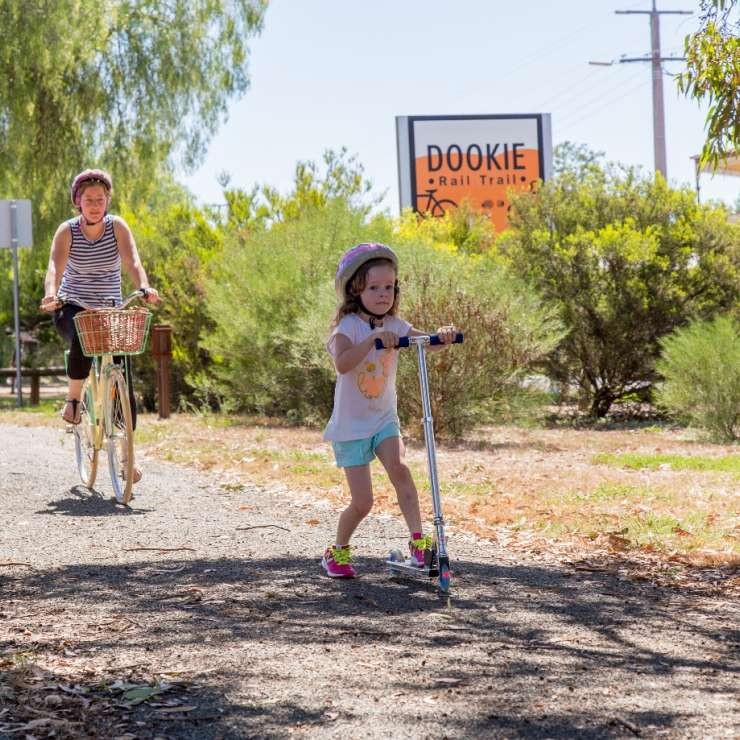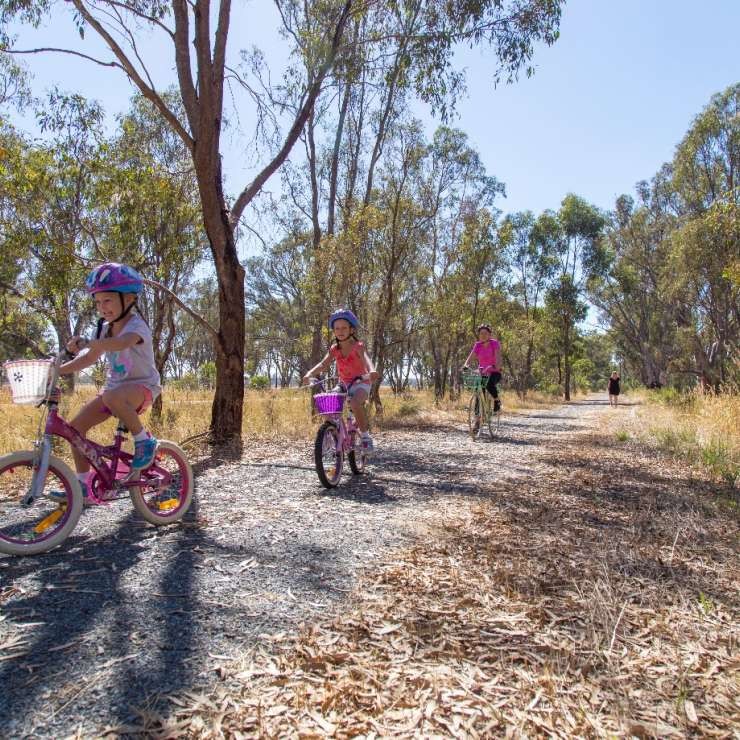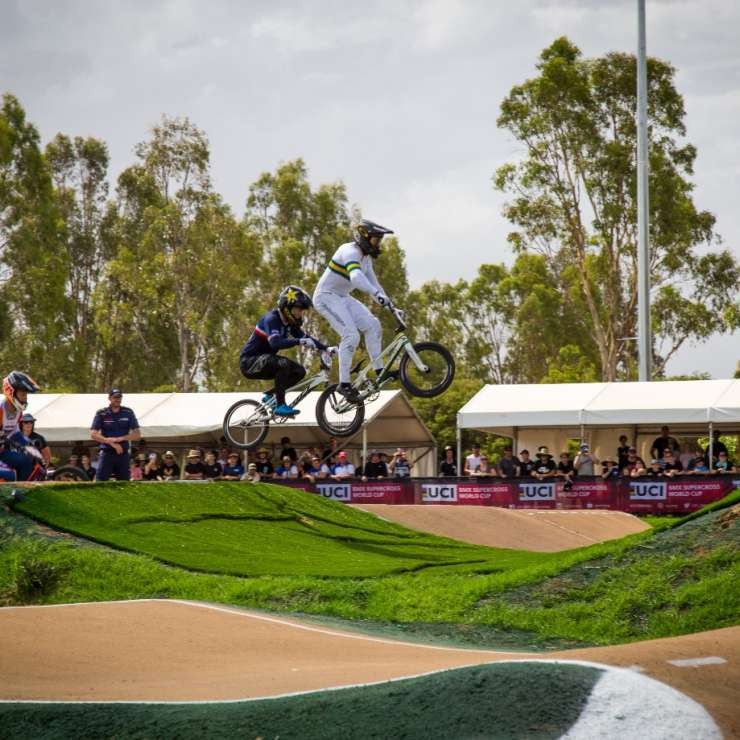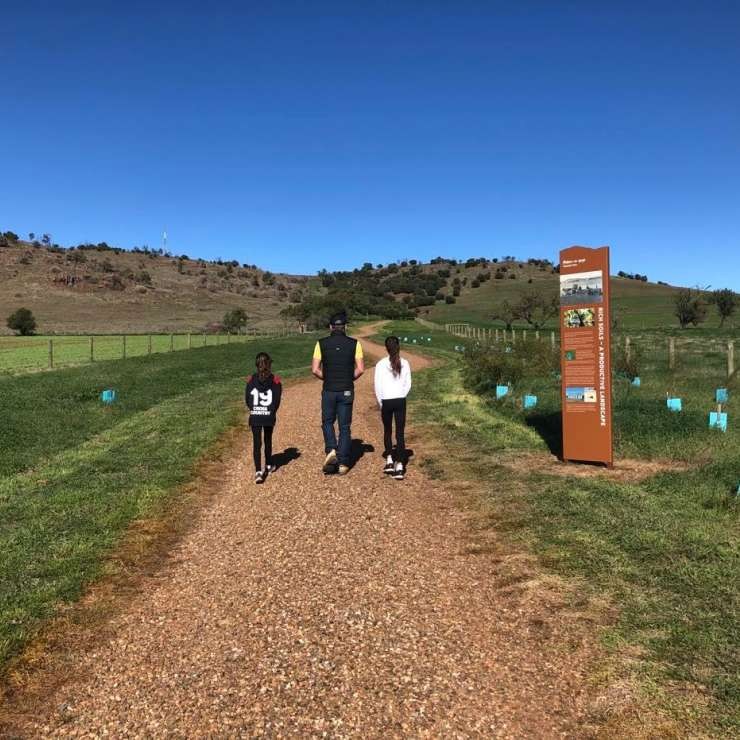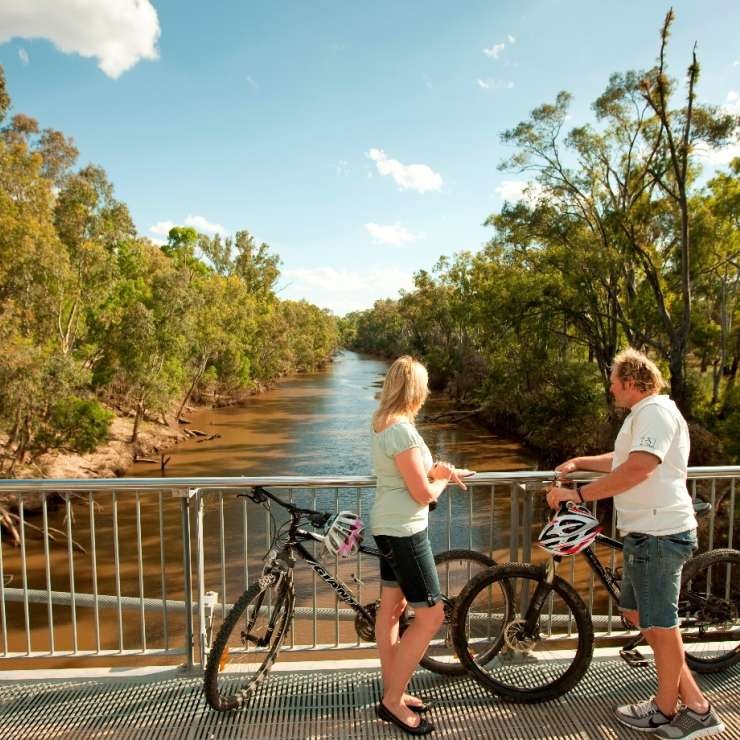 Shared Bike and Pedestrian Pathways - Shepparton / Mooroopna
The Yahna Gurtji Shared Path Network, meaning "Come walk with me, friend", winds its way from the north of Shepparton, at Jordan's Bend, south along the Goulburn River to the centre of the city and Victoria Park Lake, where it branches west to Mooroopna and south to Kialla Lakes.
More than 40km of sealed pathways run through areas of natural beauty, including forest and river environments, and are connected in places by on-road access links.
Rail Trails
Greater Shepparton is home to two rail trails, both suitable for short rides through picturesque landscapes, with interpretive signage along the way.
The Dookie Rail Trail stretches out both east and west of the Dookie township, through the fertile farmlands with great views to the surrounding hills including Mt Saddleback, Gentle Annie and Mt Major. Golden with canola in the springtime, rolling hills full of hay bales in the summer and autumn brings the spectacular views of the red volcanic sands that Dookie is renowned for.
The Murchison Rail Trail travels 8km (16km return) east of the township and features an historically significant bridge and the unique ecosystem of the Doctor's Swamp wetlands, and offers easy access to the Parks Victoria picnic area on the western boundary of the swamp.
Rail Trails on the Shepparton & Goulburn Valley website
Mulana Nin Iyoga Walking Trail, Mount Major
The Mulana Nin Iyoga Walking Trail was completed in early 2020, providing a scenic route on the north side of Mt Major. The 4.6km return walk traverses through yellow box woodlands opening out to the wide sweeping 360 degree view from the summit of Mt Major.
Cycle in Greater Shepparton Guide
A cycling guide to Greater Shepparton, including cycling routes from 20km to 80km, and the Yahna Gurti Shared Path Network.
Walk in Greater Shepparton Guide
A walking guide to Greater Shepparton, including the Yahna Gurti Shared Path Network.
Mountain Biking
Mt Major at Dookie offers a variety of trails for the keen mountain biking enthusiast, ranging from easy to very difficult. See the Cycle in Greater Shepparton Guide for more details and trail map.
Skate Parks
Greater Shepparton is home to three skate parks offering a wide range of technical challenges and sections for all abilities. Parks are located in Shepparton (Victoria Park Lake), Mooroopna and Tatura.
Bike Jumps
Council is working with the community to understand the issues and needs of our community regarding bike jumps on public land, to provide a solution that is safe, acceptable and appropriate for all.
Cycling Training Routes
Greater Shepparton provides cycle training routes that takes in some of Greater Shepparton's best terrain. Being relatively flat, Greater Shepparton allows riders of all fitness levels the opportunity to extensively explore the region. See the map below for suggested training routes available in the Shepparton area, for more detailed route descriptions see the Cycle in Greater Shepparton Guide.
Major Cycling Events
Tatura 200
The Tat 200 is an annual Charity Bike Ride & Walk held in Spring each year – with distances varying from 25 kms to 200km, spreading out from the township of Tatura. All sponsorship money raised through the event is donated to local charities, organisations and community groups within the Goulburn Valley.
Shepparton Cycling Club Christmas Track Carnival
Held in late December each year at the Shepparton velodrome, the Christmas Track Carnival features competition for both junior and senior cyclists.
Other Major Events
Greater Shepparton has played host to state, national and international cycling events including the BMX Nationals, UCI BMX World Cup, BMX State Series, Herald Sun Tour, Junior Road National Cycling Championships and Mountain Bike State Championships. Keep watch on the Shepparton & Goulburn Valley Calendar of Events for future events.
Clubs and Community Groups
Greater Shepparton Bicycle User Group - BUG
BUG Shepparton are a keen bunch of cyclists from central Victoria who meet together for the enjoyment, exercise and adventure of regular, friendly organised recreational bicycle rides. The objectives of the Shepparton BUG are:

To plan and actively participate in a range of organised bicycle rides.
To provide a forum for cyclists to meet and discuss cycling matters in a friendly and supportive manner.
To work closely with local authorities within the municipality to establish and/or improve safe cycling conditions.
To promote the benefits of all types of cycling throughout the region.
Greater Shepparton BUG believes that cycling is convenient, non-polluting, healthy and should be regarded as a normal activity for people to do for everyday travel and pleasure.

Shepparton Adventure Club
The Shepparton Adventure Club runs a variety of outdoor activities in a sociable setting including bushwalking (day, overnight and extended walks), midweek walks, bike riding and touring.
Shepparton Cycling Club
Based at the Shepparton Velodrome, Shepparton Cycling Club provides the opportunity for cycling enthusiasts to be a part of the cycling community – supporting competitive riding as well as cycling as a pastime. Track Training and racing.
Shepparton BMX Club
The Shepparton BMX Club operates from the BMX Supercross track at Shepparton Sports City, suitable for licensed riders of all ages, gender and ability.
Goulburn Valley Mountain Bike Club
The Goulburn Valley mountain bike club provides an opportunity for the Goulburn Valley and greater community to participate in all forms of Mountain Bike riding. The club lead and direct riding in the community whilst developing and promoting the aspects of fun, safety and health benefits involved in the sport.
Hume Region Significant Trails Strategy
This Hume Region Significant Trails Strategy contains a number of recommendations to guide the Hume Region Significant Tracks and Trails Committee when promoting tourism potential and to seek funding and resources to develop, enhance and upgrade regionally significant tracks and trails in the Hume region.
The strategy links to and complements a wide range of local, municipal and state-wide strategies, and is a blueprint for the Hume region in relation to the development and enhancement of tracks and trails over the next ten years.