Household Bin Collection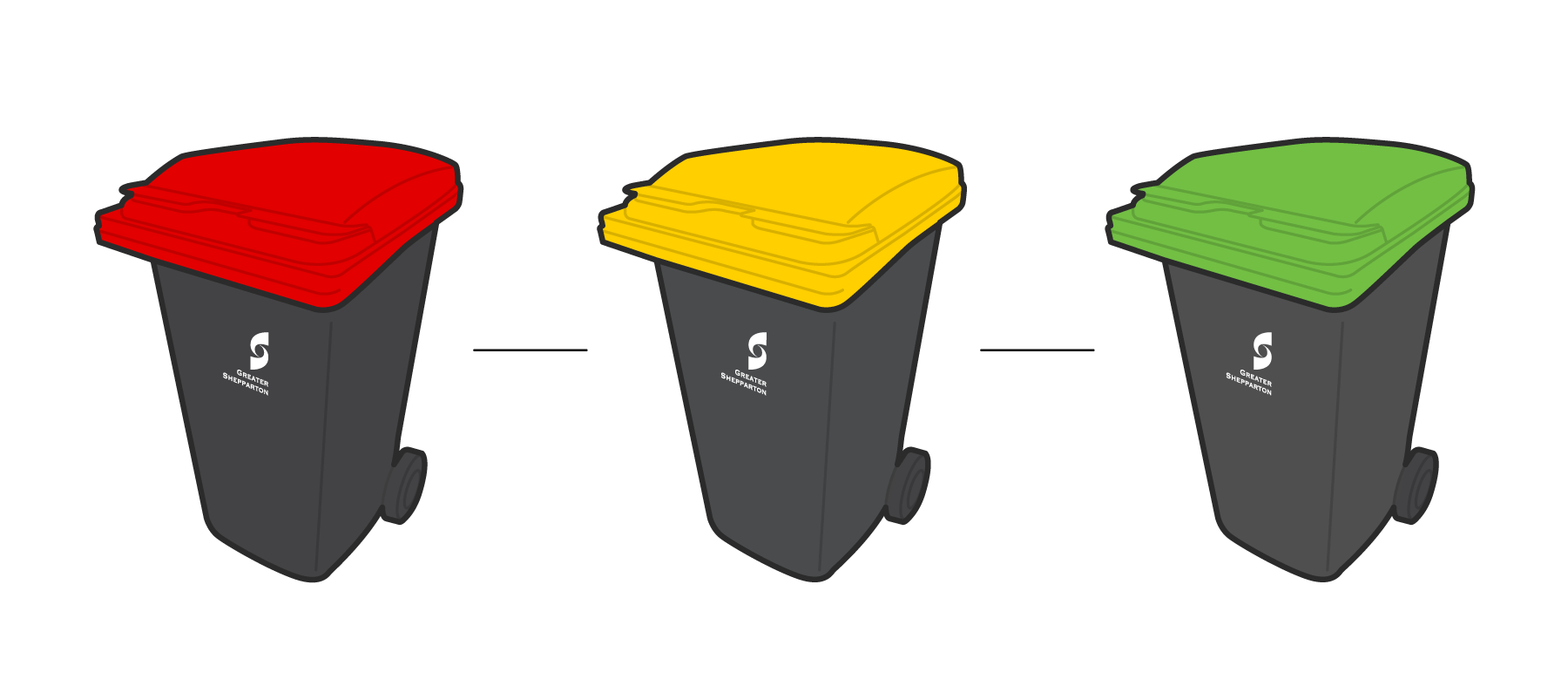 Council offers residents a weekly landfill rubbish collection, and alternating fortnightly recycling and green organics collections.
When are my bins collected?
Landfill bins are collected weekly, while your recycling and compost bins are collected on alternate fortnights, the same day as your landfill bin.
To find out when bins are collected in your street, type your street name below.
What types of bins are available?
There are a range of bin types and sizes available to cater for different needs:
Please contact Council if you would like to alter your bin size. Please note that fees apply to up-size your landfill bin or to cancel any non-compulsory kerbside services.
Bin fees and charges
The charge for a kerbside waste collection service applies equally to all urban residential properties where the service is rendered and/or available, irrespective of whether or not the service is used.
Full details on fees and charges related to waste, recycling and green organics collection can be found on our Rating Details page.
How do I place my bin out for collection?
Your landfill, recycling and green organics bins will be collected by single operator trucks fitted with a side-operating mechanical arm. The mechanical arm picks up the bin and empties the contents of the bin into the truck.
The driver operates the mechanical arm from inside the truck and cannot leave the cabin to correct the bin placement. This type of collection system has been chosen to minimise the Occupational, Health and Safety risks to the operator and also to minimise costs to residents.
You should place your bins out for collection the night before your collection day.
Tips to place your bins correctly:
Place your bins at least half a metre apart on the kerbside. For rural residents, please place your bins one metre off the sealed road, well clear of traffic.
Make sure the wheels are facing your property.
If you live in a court, please take your bins to the nearest straight section of road, where they are easily accessed by the collection vehicles.
Do not place bins behind parked vehicles.
Do not place bins under low overhanging branches or power lines.
Ensure that the lid of the bin is closed properly. The truck won't empty your bin if the lid isn't closed.
Do not overload your bins. Bins can be damaged if overloaded, and present a safety risk. Bins over 100 kilograms in weight will not be collected. Please remove material prior to the next collection.
What if my bin is lost, stolen, or damaged?
Lost and stolen bins must be reported to Council. You will be required to complete a statutory declaration to enable Council to supply a replacement bin - this will be at no charge to you.
If your bin is damaged, contact Council on (03) 5832 9700, and we will arrange for the bin to be repaired or replaced free of charge.
Public litter bins
Public litter bins are located all around Greater Shepparton in parks, gardens and commonly used public areas. There are two types of bins: landfill (including doggie-bag bins) and recycling. These bins are to be used in the same way as your bins at home, with the red topped bin being for landfill waste and the yellow topped one for recycling.
Public litter bins are for use by the public only. Businesses must not use public place waste bins for the disposal of commercial or shopkeeper waste.