Kialla North Growth Corridor (former Investigation Area 3)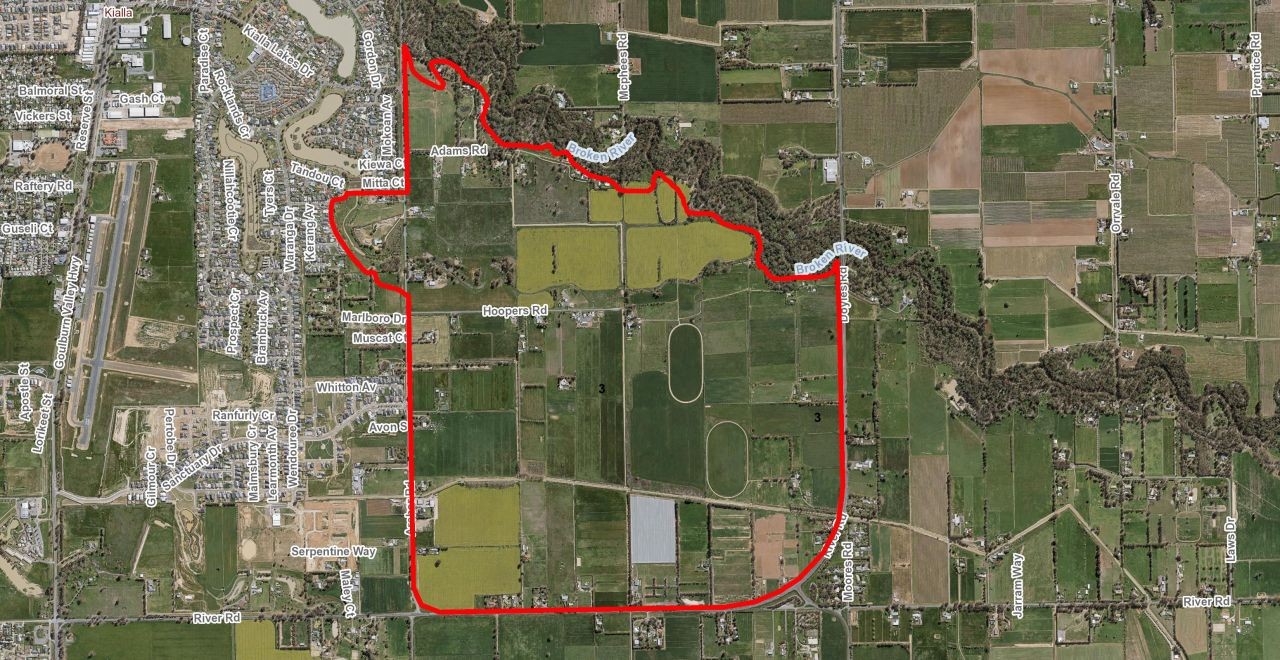 Greater Shepparton City Council (Council) is commencing design and investigation work for a future strategic residential growth corridor on land formerly identified as Investigation Area 3 in Kialla.
Background
The Greater Shepparton Housing Strategy 2011 (GSHS) was prepared to guide the long term identification and provision of residential land within the City of Greater Shepparton. The GSHS was implemented into the Greater Shepparton Planning Scheme (Planning Scheme) in 2012 via Amendment C93. Amendment C93 included framework plans for all future residential land in the Planning Scheme. It also identified six residential Investigation Areas, including Investigation Area 3, which may accommodate future residential development after further strategic planning investigations have taken place that better understand the ability of the land to be developed for residential purposes. Flooding was identified as the major issue that needed to be resolved in a future investigation study.
Council undertook an investigation into the suitability of the land to accommodate residential uses in 2015. As part of this process, Council engaged Water Technology Pty Ltd to prepare a model of flood behaviour and conceptual masterplan for the land. The Model of Flood Behaviour and Conceptual Master Plan Report was noted by Council at the Ordinary Council Meeting held on 19 July 2016.
Amendment C195 to the Greater Shepparton Planning Scheme implemented the intent of the Conceptual Master Plan and recommended that the land could accommodate low density and conventional residential development.
Community consultation and next steps
In late-2020 and early 2021, Council undertook pre-draft consultation with all landowners and occupiers of land within the study area. Pre-draft consultation for the Kialla North Growth Corridor has since closed.
Council officers will now collate all submissions received and they will inform the preparation of a draft Traffic Impact Assessment (TIA) and draft Integrated Water Management Plan (IWMP) and the ecological assessment for the land. These reports will be used to determine the level of traffic and storm water drainage infrastructure that will be required to support any future residential development of the land.
These works are required to be undertaken before a Precinct Structure Plan (PSP) and Development Contributions Plan (DCP) can be prepared for the land. The PSP will guide the future development of all land, and the DCP will identify and cost the quantum of infrastructure required to support the future development of the land.
Further community consultation will occur following the completion of these documents. Council will commission all remaining background documents required to finalise the PSP and DCP.
When all background documents are complete, a planning scheme amendment will then be prepared to implement the PSP and DCP before the land can be developed for residential purposes.
Timeline for development
Amendment C93 approved and gazetted by the Minister for Planning
Model of Flood Behaviour and Conceptual Master Plan
Amendment C195 approved and gazetted by the Minister for Planning that implemented the Model of Flood Behaviour and Conceptual Master Plan
Council undertaking preliminary design work to inform the Precinct Structure Plan and Development Contributions Plan
Planning Scheme Amendment to apply the DCP and PSP to the land