Heatwave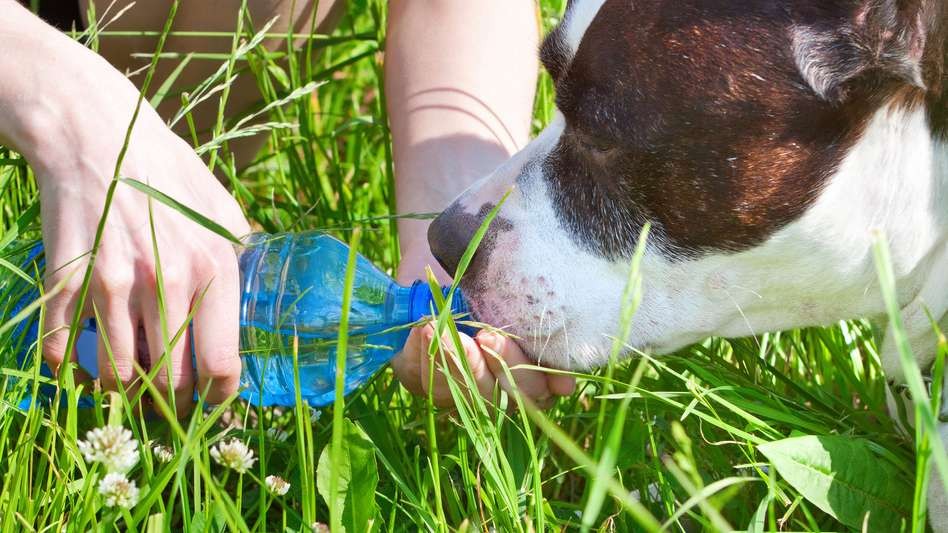 A heatwave is a period of excessively hot and uncomfortable weather that adversely affects human health or when temperatures rise much higher than usual for several days in a row.
A heatwave alert is issued when the mean temperature exceeds the designated threshold of a mean temperature of 32 degrees on two consecutive days. The mean temperature is calculated by averaging the overnight minimum temperate and the following day's maximum temperature.
During a heatwave particular attention should be paid to those people whom you support that may be particularly vulnerable to heatwaves. These include (but are not limited to): people aged over 65 years, children under 5, pregnant or nursing mothers, some people with disabilities or pre-existing medical conditions, people taking certain medications and those living alone with little social contact.
Important Contacts and Information
In a life threatening emergency call '000'.
Nurse-On-Call
Nurse-On-Call is a phone service that provides immediate, expert health advice from a registered nurse, 24 hours a day, 7 days a week.
Call 1300 60 60 24 for the cost of a local call from anywhere in Victoria. (Calls from mobile phones may be charged at a higher rate.)
Bureau of Meteorology
The latest 7-day forecast can be accessed from the Bureau of Meteorology website.
Responding to a Heatwave
Keep out of the heat - look for shade and wear a hat.
Drink enough water.
Naturally cool your home, close windows and blinds in the day.
Talk to your health service if you have health issues.
Check on people who may struggle in the heat.
Help people who are feeling unwell.
Heatwave Planning
The Greater Shepparton Heatwave Plan aims to inform our community about the impending heatwave and to provide assistance and direction to our most vulnerable residents during this time.
The plan has been developed by a Greater Shepparton Heatwave Planning Steering Committee, that included representatives from Council, Goulburn Valley Health, Goulburn Valley Division of General Practice, Goulburn Valley Primary Care Partnership, Goulburn Valley Community Health Service, Department of Human Services and other local health and welfare organisations.
The plan has four stages, which are: Planning and Preparation, Heatwave Alert, Heatwave Response and Heatwave Recovery and Review.
Download the Greater Shepparton Heatwave Planning Kit for Community Organisations from the link below.
Kids In Hot Cars
NEVER LEAVE CHILDREN UNATTENDED IN A CAR
The thought of running a quick errand and leaving the children in the car for a minute can be tempting for a parent or carer. Leaving children unattended in a car on any day is dangerous, let alone a hot summer's day. It could result in serious injury or death. In some states it is against the law to leave children unattended in a car. Check the motoring authority in your state or territory for the relevant laws and regulations.
WHAT ARE THE RISKS?
On a typical Australian summer day, the temperature inside a parked car can be 20 degrees C to 30 degrees C hotter than the outside temperature.
The temperature inside a car can reach dangerous levels quickly; 75% of the temperature rise occurs within the first 5 minutes of closing and leaving the car. Large cars heat up just as fast as smaller ones.
Leaving the windows down slightly has little effect on the inside car temperature. Tests conducted by RACQ have shown that when car windows are left open by 10cm, the inside temperature is only 5 degrees C cooler than with the windows closed.
Young children are more sensitive to heat than older children or adults as their body temperature can rise 3 to 5 times faster. This puts them at greater risk of heatstroke and other health risks as their body temperature reaches dangerous levels much sooner.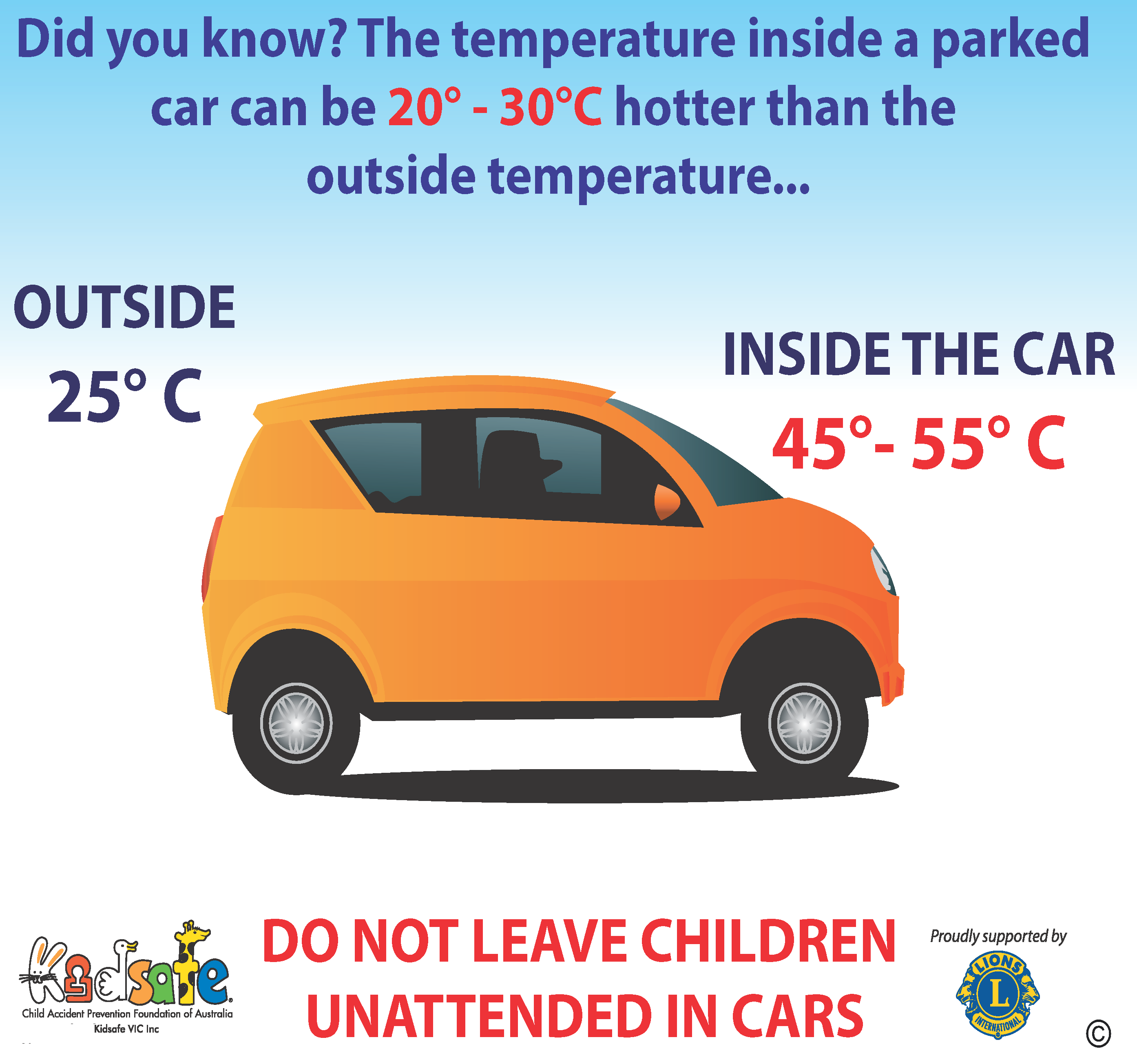 HOT CARS SAFETY TIPS
If you have to leave the car, even to run a quick errand – take the children with you.
Never use the car as a substitute 'babysitter'.
Never leave children in a car without adult supervision for any length of time, not even a minute!
Lock cars and secure keys when at home to prevent children playing inside the car.
Make 'look before you leave' a routine whenever you get out of the car.
When a child is missing, in addition to checking backyard pools and any other bodies of water, be sure to check inside the car and the boot of any nearby vehicles.
Never leave valuables in the car, including your kids!
SUMMER HOLIDAY TRAVELLING
Provide plenty of cool water and fluids throughout the journey.
Dress kids in lightweight and easy fit clothing.
When planning a long journey, consider travelling in the cooler hours of the day.
Plan to stop every 2 hours so all passengers can have a rest from travelling.
If you need to protect babies or young children from sun through the car windows, use a visor or sunshade on the vehicle glass.
On every trip, check the fit of your child's harness, child restraint tether straps and secure seatbelts to ensure they are correctly latched and firmly adjusted.
WHAT CAN YOU DO IF YOU SEE A CHILD ALONE IN A CAR?
If you notice that a child has been left unattended in a vehicle call 000 and ask for the Fire Brigade.
Give your location, the vehicle registration number, the approximate age of the child and the condition of the child.
If the car is unlocked, open the doors and shield windows with a blanket etc. and wait for emergency services – or – safely try to remove the child from the vehicle if you are concerned about the child's condition as every second counts!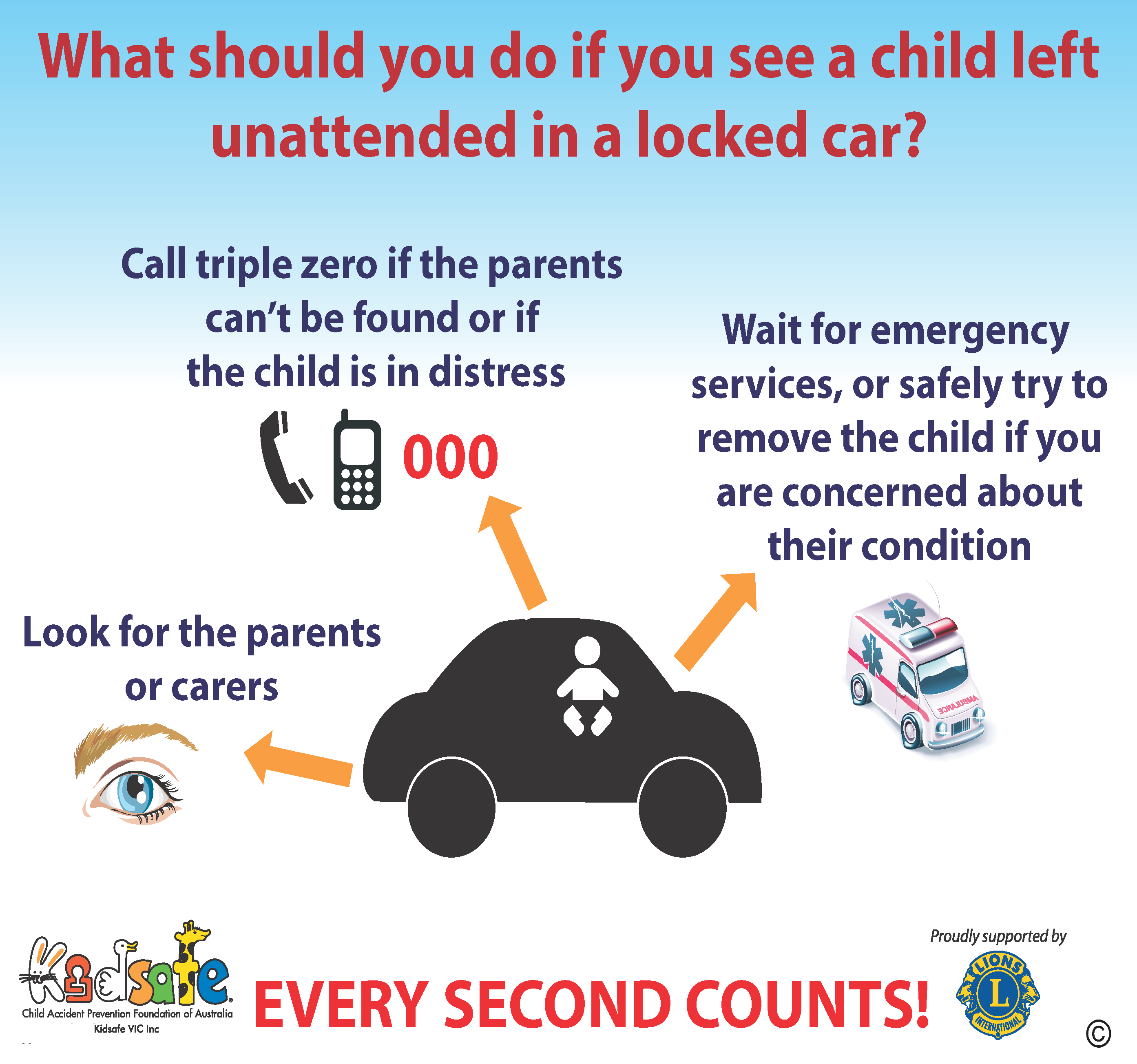 For further information please visit Kidsafe Victoria at: www.kidsafevic.com.au
Department of Health
This Department of Health website provides information about:
Community resources
Provides a suite of communication resources about staying healthy in the heat, in a range of formats and translated languages.
Heat Health Alert System
Includes information about the Department of Health Heat Health Alert System and the current heat health alert.
Publications
Includes a report on the health impacts of heat and the heatwave newsletter.
Research
Includes an overview of recent research the department has conducted.